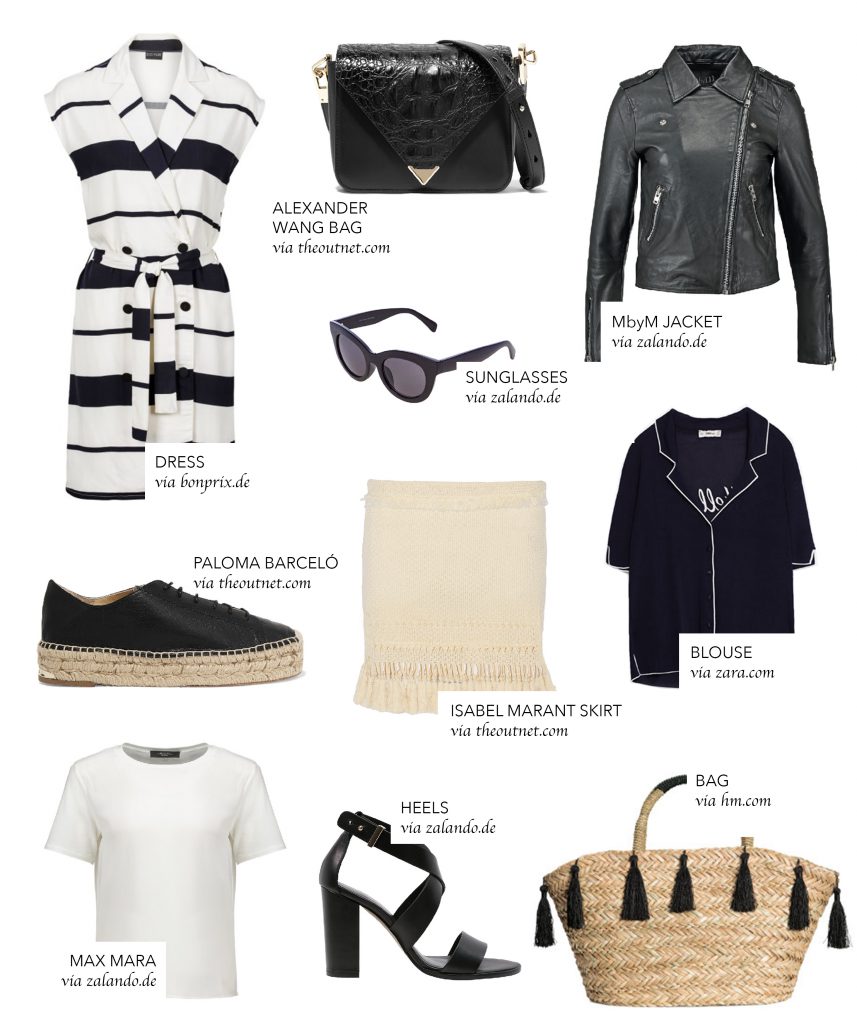 Dress – Bonprix  |  Bag – Alexander Wang  |  Leather Jacket – MbyM  |  Sunnies – Cheap Monday
Espadrilles – Paloma Barceló  |  Skirt – Isabel Marant  |  Blouse – Zara  |  Blouse – MaxMara
Heels – Zalando Iconics  |  Bag – H&M
I have had such a good time switching off my phone for the weekend. I am usually pretty bad at switching off things especially my head but it really helped focusing myself again. While the weather in the Netherlands (as always) wasn't on my side I still got to see the seaside which always makes me feel better immediately. Not proper maritime themed but believe me or not when I looked at my finished summer cravings I had to admit some of my inspiration must have come from my weekend away!
I am about to order my first pair of espadrilles but not the cliche ones I promise! I never really liked espadrilles – always thought of them as a typical girly thing. But this year (I know I am late to the game don't judge) I have seen so many styles that I love. The Paloma Barcelo are particular pretty to look at but if you are not willing to pay such an amount on espadrilles I can also recommend the high quality section at h&m – they are currently driving me crazy with all their must have shoes! Oh and the beach bag might or might not have landed in my shopping basket last night, just look at those tassels!
Concerning summer dressing I will never go full boho so this would be my minimal take on summer dressing. I love a good blazer dress or in general a minimal summer dress and this little number is not only the perfect summer companion but also budget friendly! As for blouses I am still searching for the perfect pajama blouse and might have found it at our favorite high street label Zara and because it is summer after all I would add some white with the cute Weekend MaxMara blouse. Last but not least it seems like as long as it has tassels I will buy it – I have fallen deeply in love with the Isabel Marant tassel skirt last season already and now it just came in at the Outnet – which means it makes it affordable for me (sorry bank account). The Alexander Wang Prisma bag is another 'just in' at the Outnet and has been high on my wishlist for as long as I can think. Decisions Decisions.
What are your absolute summer cravings?
P.S.: I have also added my favorite summer pieces in the my style section for you!