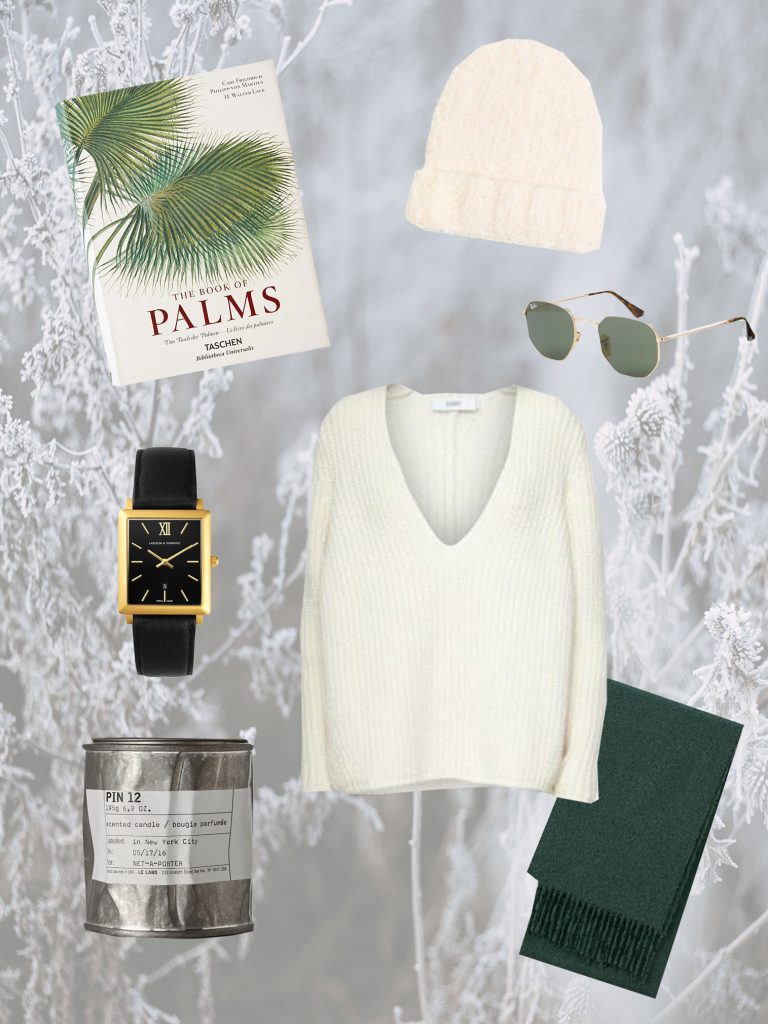 book – urbanoutfitters  |  hat – &otherstories |  sunglasses – rayban  |  knit – closed
watch – larsson & jennings  |  scented candle – le labo   | cashmere scarf – uniqlo

It's that time of the year again and since I have already started with the gift guide for myself I figured why not also do a gift guide for the women in your life and don't worry I will also be covering the men in your life.
There are some bits and bobs that I think are more suitable for your best friend and some for your mum or other female family members. My mum is a crazy interior addict (thank you for teaching me so much about designer furniture that I will never be able to decorate my apartment solely with ikea furniture). But what she is still missing are some coffee table books that are not interior related hence the palm tree book – the art works in there are beautiful!
To stay with mums for a little longer: I think gifting a timepiece is always a wonderful idea, especially if it's such a classic piece as the new Larsson & Jennings collection! Another idea are scented candles because really nobody will understand better why you have to spend 50€ or more on a scented candle than your mum. Since I have recently tried my first Le Labo fragrance (more on that soon!) I had to include one of their perfect scented candles in this gift guide.
Turning to your best friend now – knitted everything! I don't know what your best friend is like but mine shares my love for everything knitted and soft. Hence, I figured why not gift her exactly that? I have been eying on the closed alpaca knit for ages now but sometimes it can be more joyful to just gift something you wanted for so long to someone else. If you are on a smaller budget I really love the off white XL beanie from &otherstories or the pine tree colored cashmere scarf.
Last but not least, you wanted something that she can work all year around and what could be better than a pair of sunglasses? You know me by now there are two brands I am loyal to: Ray Ban and Ace&Tate. The newest collection of the Ray Ban classic metal round sunglasses hit my soft spot – I love the vintage feeling of the hexagon shape.

Do you already have gift ideas for the women in your life?
Are you a online or offline gift shopper?