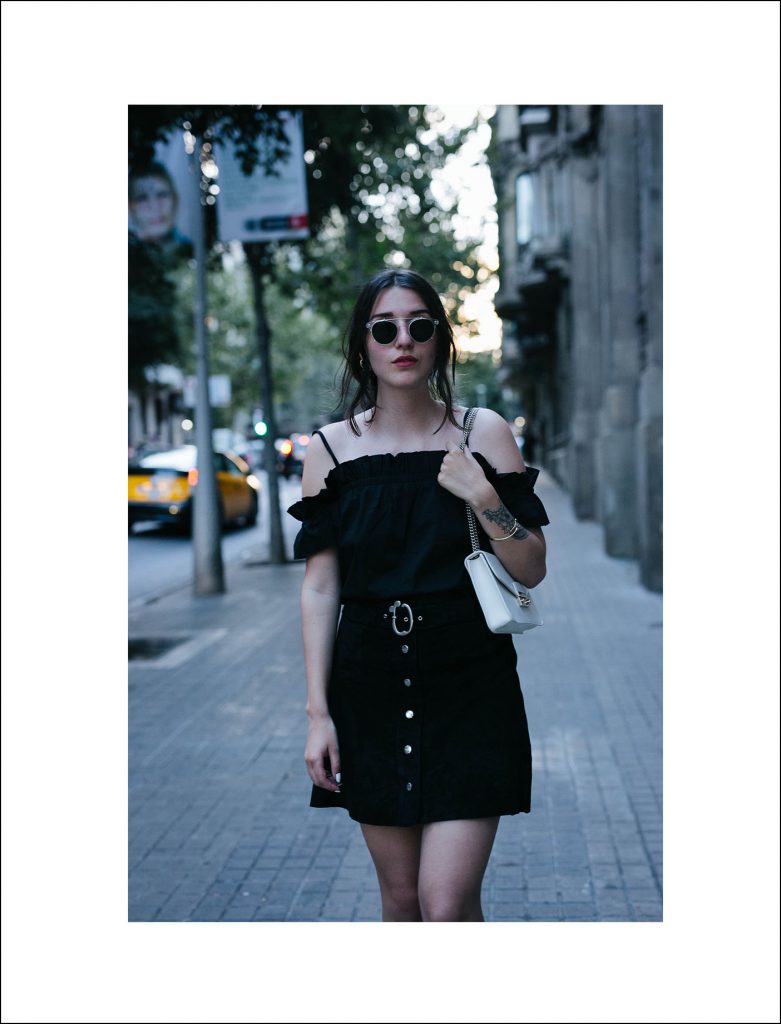 Top – Boohoo  |  Skirt – Zara  |  Sunglasses – c/o Ace&Tate  |  Jewelry – Madeleine Issing
Sandals – Mime et Moi  |  Bag – Furla
"Wear black and be gold" has always been one of my favorite sentences to say to everyone that would ask me why I would never wear colors. I used to have an all black wardrobe thing going on, not because I was trying to be rock'n'roll, no I just always loved how black clothing made me feel. You don't need bold colors to stand out or to life a colorful life. Just because I like my wardrobe color scheme to be as small as possible doesn't mean I can't have fun.
While my shooting locations are usually a little less colorful (yep you spied the pattern yet?) this location is capturing the feeling of the city quite perfectly. What could possibly be a better scene then Barcelona's city lights melting into the green? When I visit new places I make it my biggest goal to capture the feeling of that place and hopefully be able to bring that feeling back to life later on Basic Apparel for you.
Now lets just turn to the outfit shall we? I am wearing my beloved Zara suede leather skirt, which was most likely my very best AW2016 Sale find with a rather new top from Boohoo that sneaked into my wardrobe with this white summer dress a while ago. I added my beloved Furla Bag as well as my Ace&Tate glasses with the clip-ons (yes this is the best invention ever!).