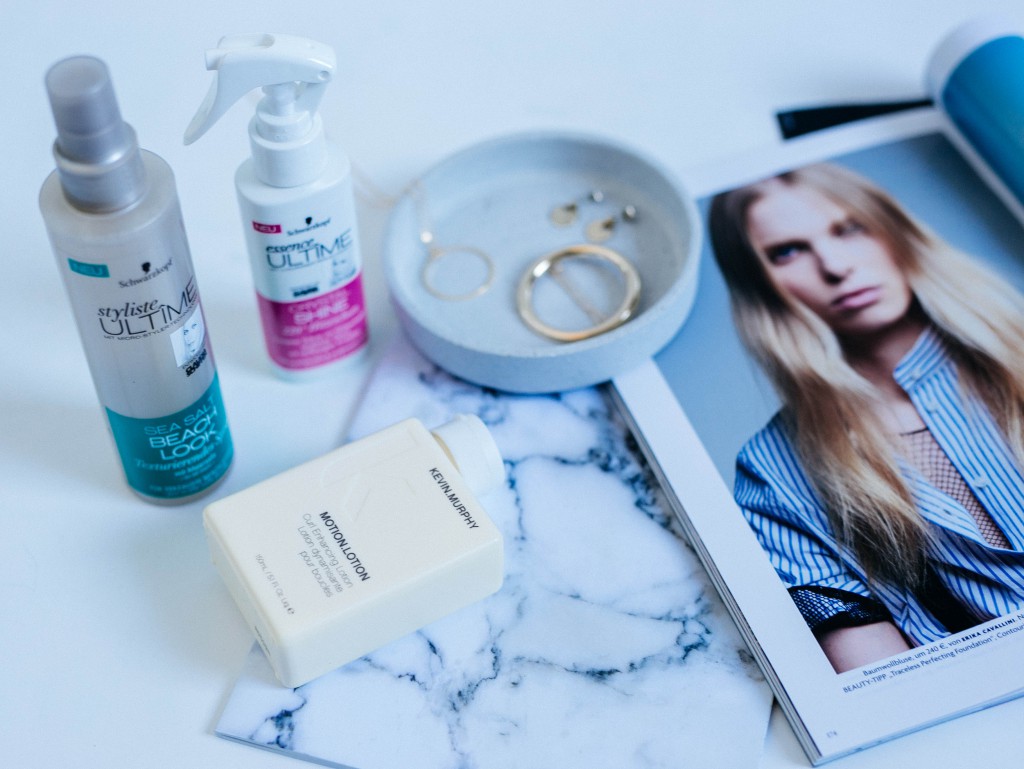 After showing off my new hair cut recently  I want to show you my favorite new styling products this sunday. As some of you might now I am all new to the hair styling thing. I used to just air dry my hair after showering at night and voila get up next morning. To be honest most days I still do that now – however I recently discovered 3 little helpers, which I want to introduce to you today.
1. Kevin Murphy, Motion.Lotion (24,50€)- the perfect helper if you want to create curly hair. Knead it into your hair after showering and then blow dry your hair as usual. They used it at my hairdresser and I had to get it afterwards – mainly because the product smells so so good! It works best if you have natural curly hair but will also give straight hair a nice volume!
2. Schwarzkopf, Sea Salt Beach Look (3,99€) – If I apply this spray to my moist hair after showering they get really nice curly / wavy. This is probably the most helpful product because my hair lost a little of its curliness due to the shorter haircut. For my hair structure it really does not dry the hair out like other sea salt sprays do – another plus!
3. Schwarzkopf Crystal Shine (4,99€) – This little spray will hopefully keep my hair protected whenever I use my curling iron. I am always super worried that curling irons or straightener will destroy my hair (I have heart so many horror stories as a teenager). So before I use any of such products I always spray this into my dry hair. As its just a protection spray I cannot really say anything about the effect. It does have a nice smell and doesn't make your hair sticky.
I hope this was helpful for some of you girls! If I find any new products that I use in my daily routine I will definitely update you!