In den letzten 2 Jahren fiel es mir besonders schwer in Weihnachtsstimmung zu kommen, da durch die Pandemie Weihnachtsfeiern, Events und die Weihnachtsmärkte allesamt abgesagt wurden. Statt sich auf diese zu verlassen, habe ich mir vorgenommen Weihnachten zum ersten Mal seit Jahren in meine eigenen 4 Wände zu holen und den ein oder anderen Adventsbrunch zu veranstalten. Dazu gehört natürlich auch das richtige Tisch Setting. Dabei wollte ich, wie man es von mir gewohnt ist, die Dekoration minimalistisch und zeitlos halten.
EN: During the past two years I had a hard time to get into the festive spirit. Due to the global pandemic all christmas parties, events as well as christmas markets were cancelled. But this year I am not leaving it to those to get into the festive mood. Instead I want to bring christmas home by organizing christmas brunches and cozy evenings nibbling cookies and drinking wine.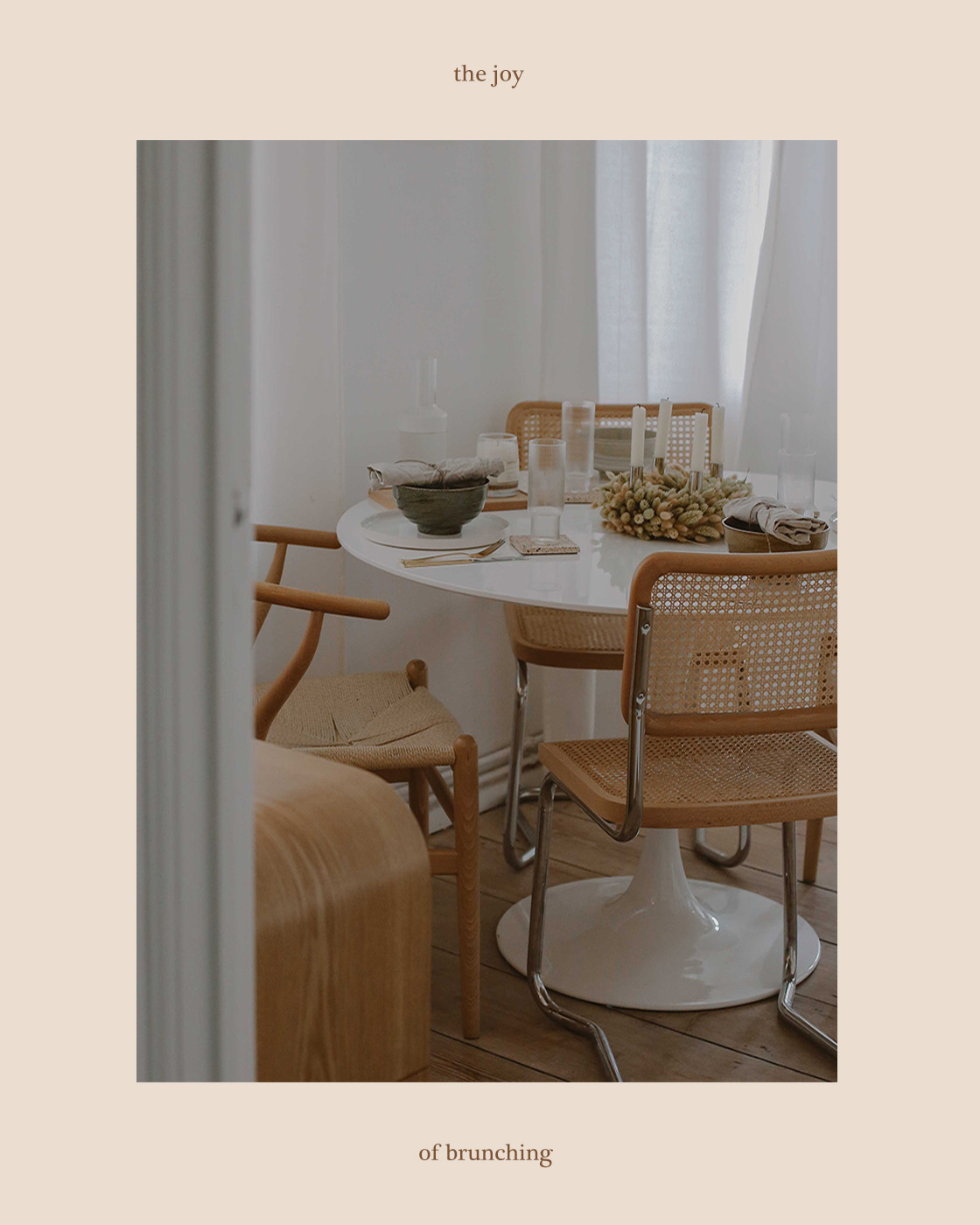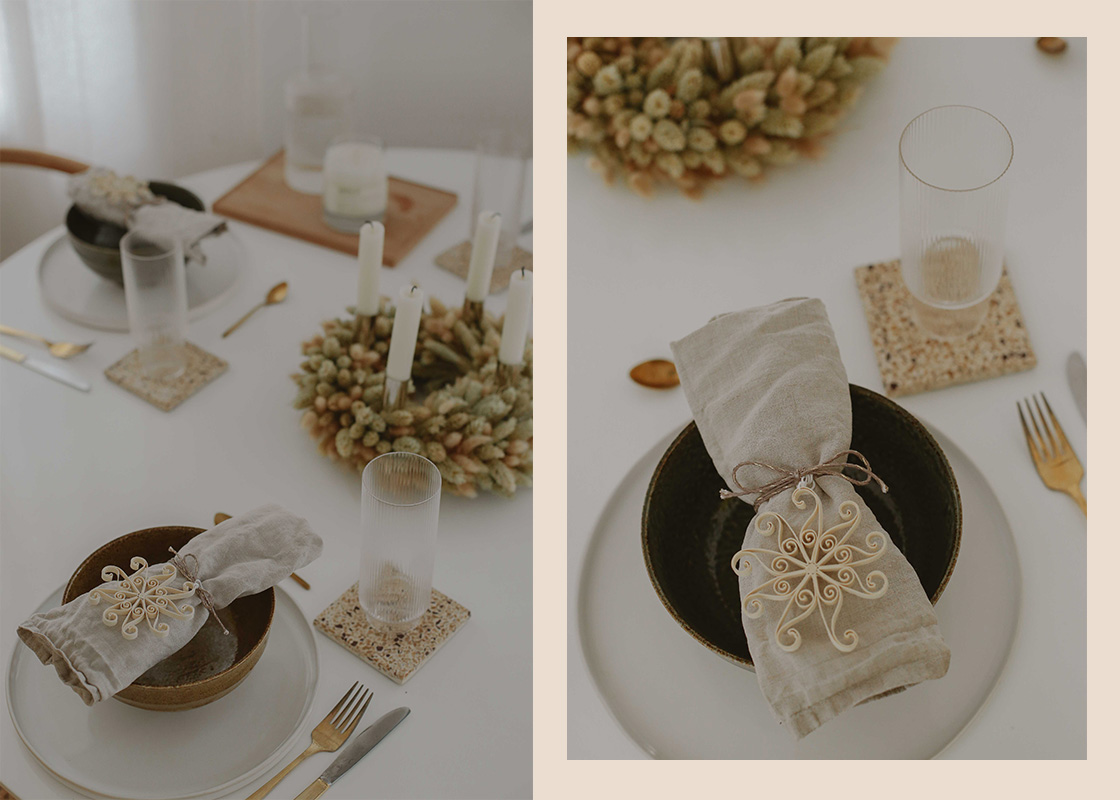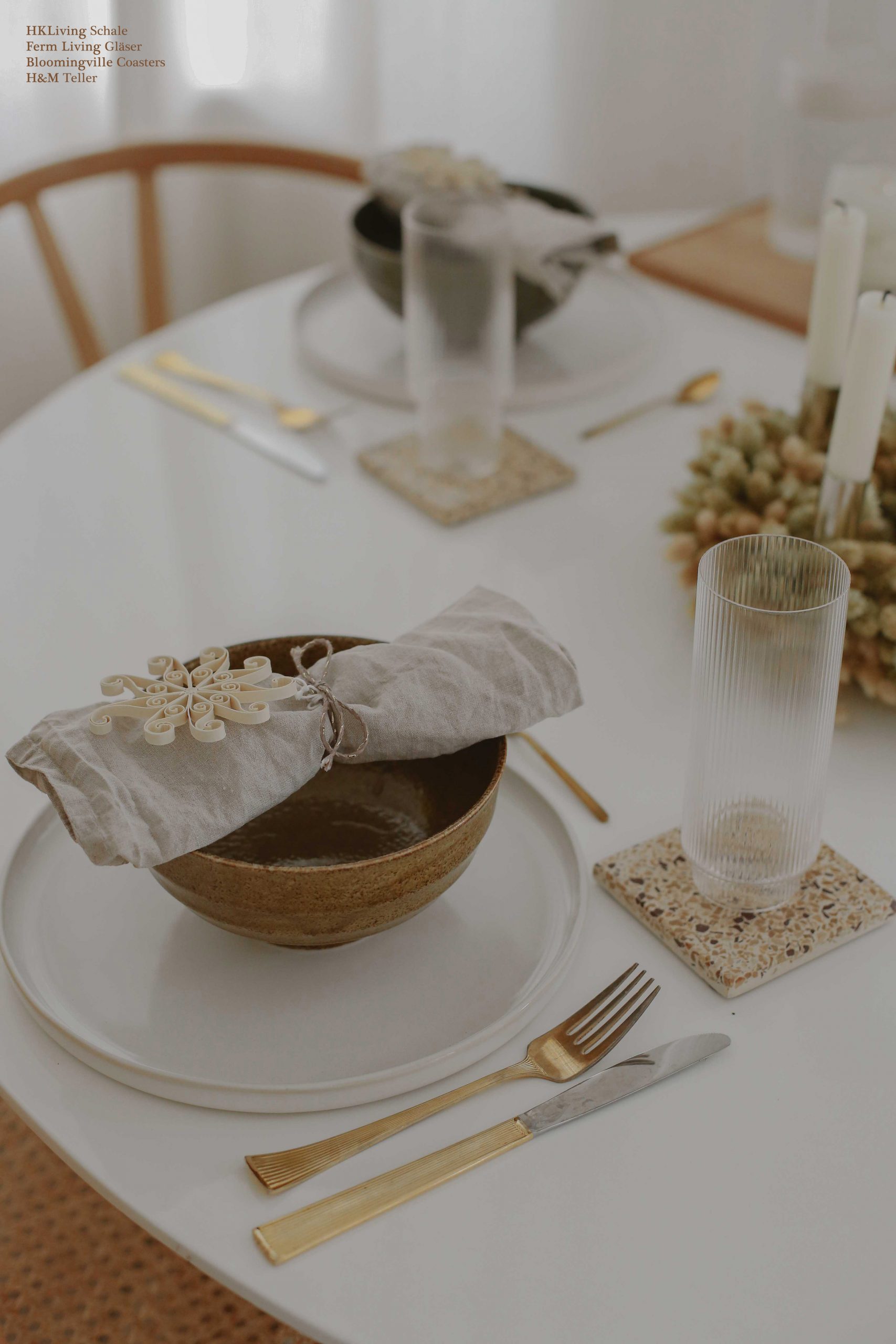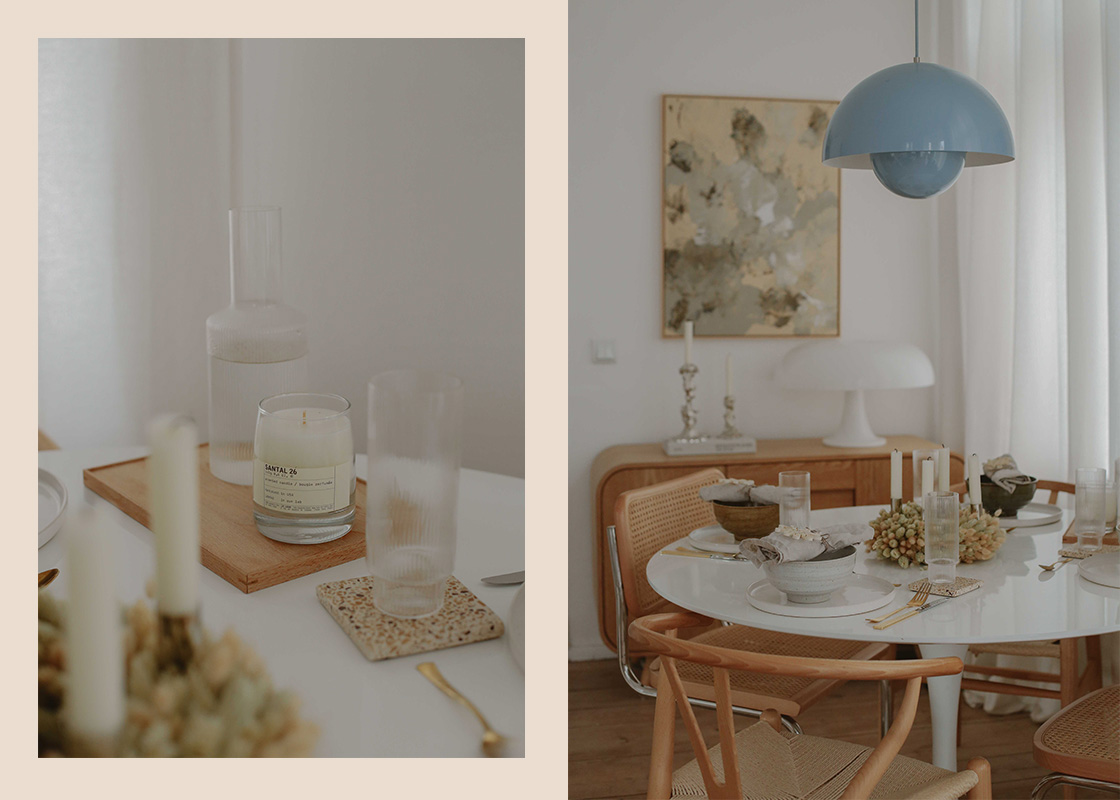 Minimalistische Tischdekoration für das Adventsfrühstück
Fangen wir mit der Königsdisziplin an; die Tischdekoration für das Adventsfrühstück. Wir haben uns dieses Jahr für einen Adventskranz aus Trockenblumen entschieden, da es uns wichtig war, dass man den Kranz wieder verwenden kann bzw. diesen auch nach oder vor Weihnachten platzieren kann. Der Adventskranz passt auch unheimlich gut zu unseren HK Living Schalen, die alle einen anderen Farbton haben – natürlich alles in unserer bekannten beige-braun-olive-grau Farbpalette. Die Schalen eignen sich perfekt für mein selbst gemachtes Granola, Pasta oder Ramen. Wer mir schon eine Weile folgt weiß auch, dass ein riesen Ferm Living Fan bin – ganz besonders die Ripple Gläser haben es mir angetan. Die Gläser sind mundgeblasen und haben sich schnell zu Klassikern in unserem Zuhause entwickelt. Wenn ich Freunde einlade, darf eines nie fehlen, nämlich die richtige Duftkerze. Im Winter finde ich die Le Labo Kerzen mit den dunklen hölzernen Noten besonders toll. Da vergisst man glatt, dass kein Tannenbaum in der Wohnung steht.
EN: Let's start with the most important holiday discipline: the christmas brunch! We decided to go for a dried flowers advent wreath as you can repurpose it and not only use it during the holidays. 
The wreath matches our HK Living bowls perfectly – they all have a different colour while being in our favorite beige-brown-olive-grey colour palette. Die bowls are perfect for my homemade granola, pasta or ramen. If you follow me for a whole you know I love FERM LIVING – especially the ripple glasses. When friends are coming over, fragrance candles cannot be missed. The Le Labo candles are perfect for winter as the dark earthy tones just fit perfectly. You almost forget there is no Christmas tree in the apartment.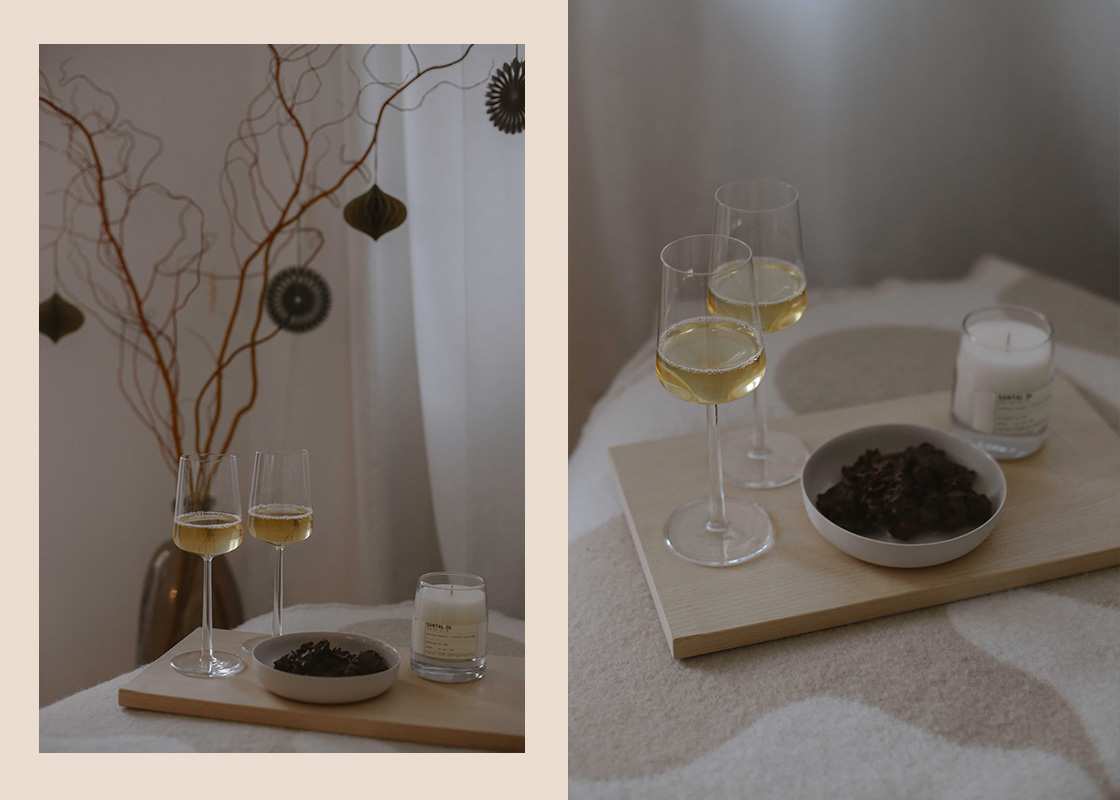 Cozy Evening mit Wein & Keksen 
Letzte Woche bin ich endlich dazu gekommen, meine "no bake" Weihnachtskekse zu backen. Gerade rechtzeitig für Weinabende auf der Couch. Und was darf da nicht fehlen? Na klar, die perfekten Weingläser. Wir lieben unsere zeitlosen  iittala Gläser. Die Marke gehört schon lange zu unseren Favoriten für alles was Glaswaren angeht. Wir haben außerdem die 29cl Weingläser und liebäugeln zur Zeit mit den Rotweingläsern – sonst ist das Set ja nicht komplett! Ich freue mich schon auf die Weihnachtszeit zu Hause, sich gemeinsam einkuscheln, einen Weihnachtsfilm anschauen und Quality-Time zusammen zu verbringen.
Worauf freut ihr euch ganz besonders in den nächsten Wochen?
EN: Last week I finally had the time to prepare my no bake christmas cookies. Just in time for cozy wine evenings on the couch. Of course, we need wine glasses for that. We love our timeless iittala glasses. The brand has always been one of our favorites when it comes to glassware. We also have the 29cl wine glasses and currently have an eye on the red wine glasses to complete the set! I can't wait for the festive time at home, wrapping yourself in a blanket, watching christmas movies and spending quality time together.
What are you most excited about in the next couple of weeks?