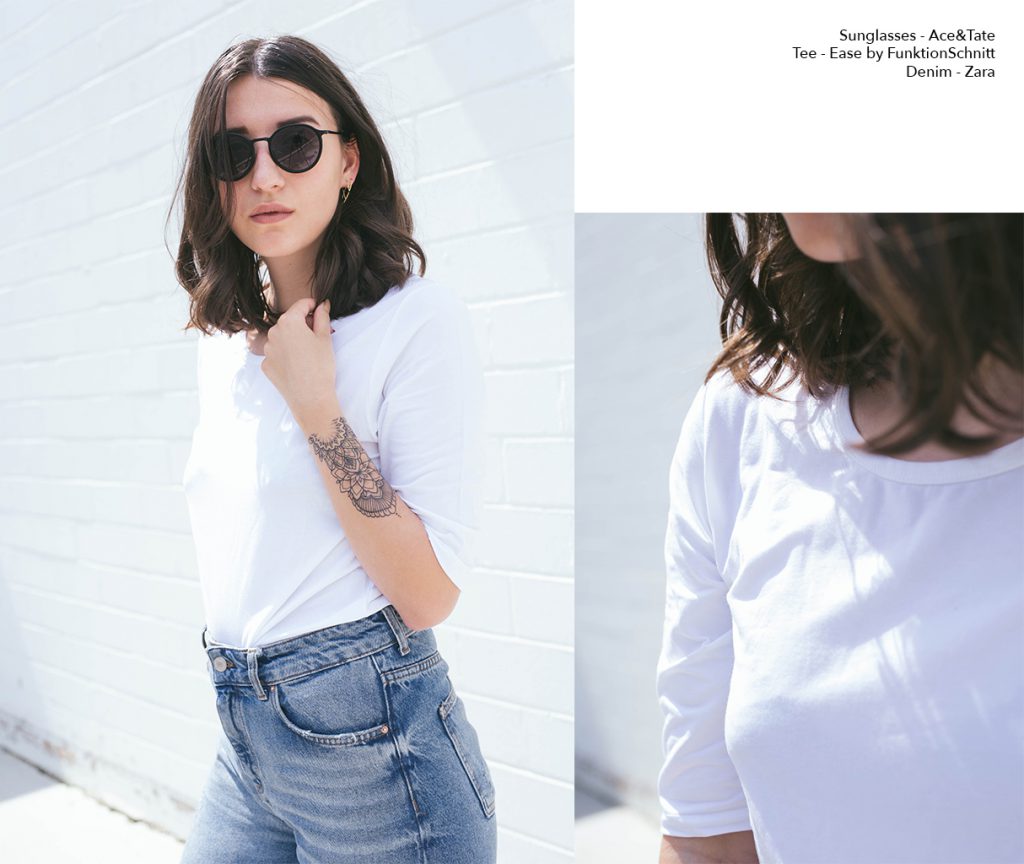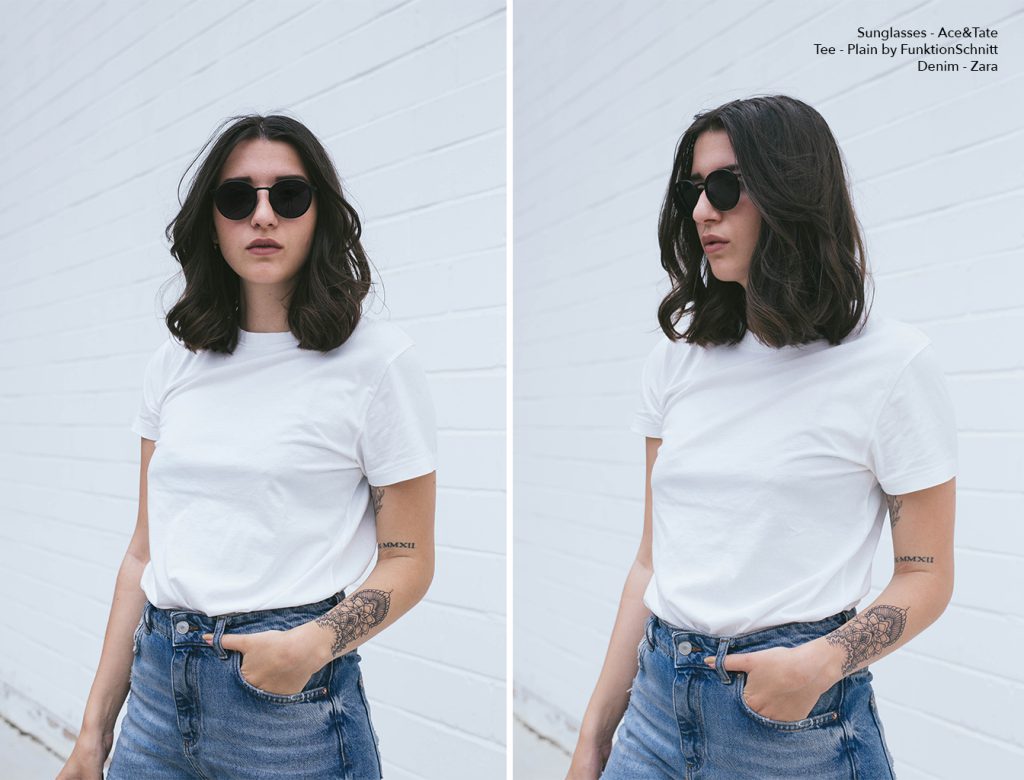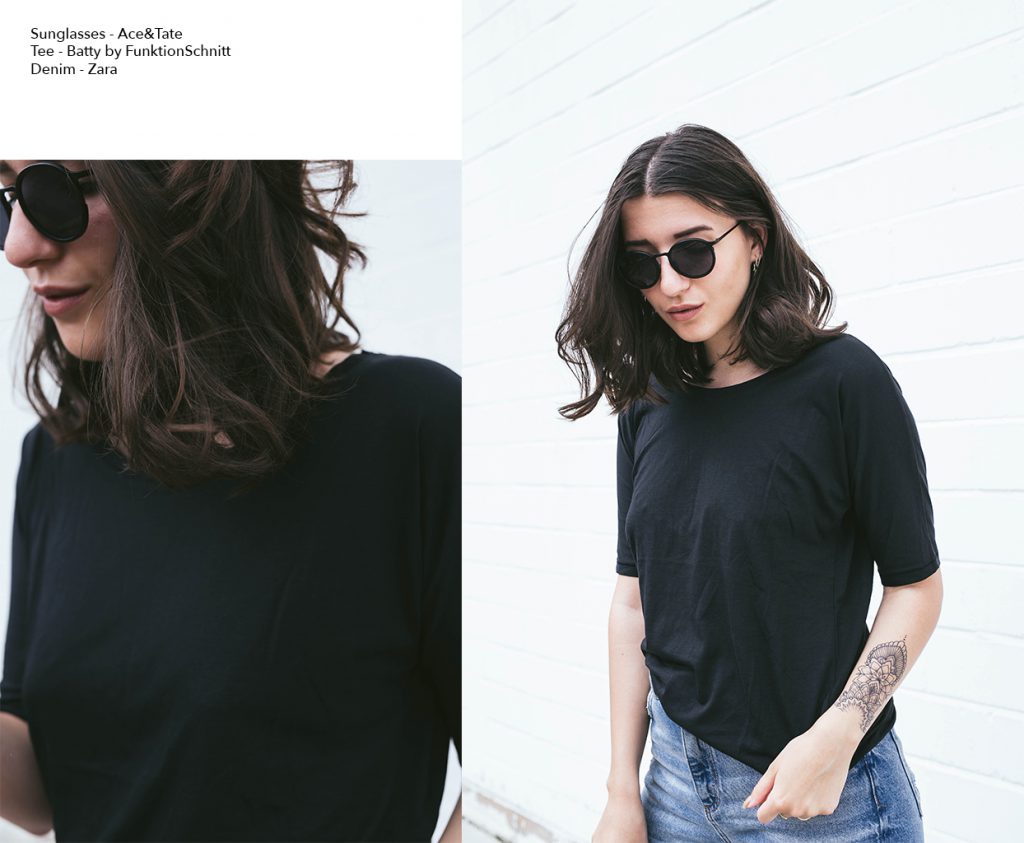 As a lover of long lasting basics I have been trying a fair few brands for those basics in the past year or so. For example the perfect white tee from Woron or the sustainable black tee from Reve En Vert. Both of these are still favorites in my wardrobe today. But I wouldn't be me if I wasn't always on the watch out for new brands for basics, one of those brands is FunktionSchnitt. It's a brand from Germany that has the goal to create a collection of thought-through tees that match or finish off your outfits. Up until now they have 6 different materials; 100% cotton, 100% linen, 67% tencel & 33% cotton, 100% lyocell, 100% merino wool and last but not least SeaCell, which consists of 68% pima wool, 26% SeaCell and 6% spandex.
You can't imagine my joy when the FunktionSchnitt Team approached me – I can never resist some good old basics. I tried all different materials except the linen tees. Therefore, I hope I can tell you a little more about the look and feel of the different tees today.
First up is the classic black v-neck, which consists of 100% lyocell. I was pretty excited about this one and ordered it in a size Small, even though it looks a little oversized in the online shop I would say this style fits true to size. The material is ultra-light and super soft, it also looks quite chic as it has a bit of a shine to it. This was especially great for me as I think with the "just right" v-neck it's the perfect tee for a day in the office without looking underdressed.
Next up is the white tee with longer sleeves – it's the SeaCell technology tee! I was curious about this special tee and it definitely didn't disappoint. For me it will be the perfect layering piece but I also liked how nice it looked just with a simple pair of mom jeans. The sleeves are a little wider, which I love – I hate nothing more than tight fitting sleeves! I would say it fits true to size as well but I went for a size Medium as I am not a huge fan of tight fitting clothing especially for tees.
One of my absolute favorites would be the grey merino wool tee. The sleeves have the perfect length and the material is a dream. I was a little worried to wear wool in summer but it's relatively thin and so so comfortable! Again I could see myself wearing this tee in the office with a pair of smart pants as the cut is very flattering. It is the most expensive FunktionSchnitt tee but I definitely think it's worth the money – you always get what you pay for!
The ultimate classic white cotton tee is next up and I don't think it needs too much explaining. I couldn't love it more, the fair trade cotton is super soft and if I could I probably wouldn't take it off anymore. It has been in the washing machine twice since I got it and stayed exactly the same size, which is great as I am loving the cut and sizing of this tee so so much (on a side note I am wearing size Small).  I am now eying on the light grey, beige and black version of the tee as I am one of those people who stock up on tees I love. P.S.: I managed to get a bird to make his business on my cotton tee while visiting park Güell in Barcelona – fingers crossed the stain will vanish after a good wash. Looking at the bright side of things – it means years of luck, right?
Finishing this testing basics with Batty the black tencel tee: Honestly, I wasn't sure about this one when I ordered it. Surprisingly, I was more than impressed by the cut and fit of it when I tried it on at home. The sleeves fit a little tighter than the other tees but not too tight and the wide round neck is a nice addition to my basics collection. It has a similar shine to it as the black v-neck but feels very soft on my skin. It feels a little like you are not wearing an extra layer. It's definitely the most oversized fit of all of the tees as I am wearing a size Small.
So I hope this will help you in case you have been thinking of ordering at FunktionSchnitt and if you haven't you may consider it now. I will definitely be buying more of their tees in the future – the different materials really convinced me. They are all different but perfectly tailored to the matching tees and will fit to any outfit really.
In friendly collaboration with FunktionSchnitt xx