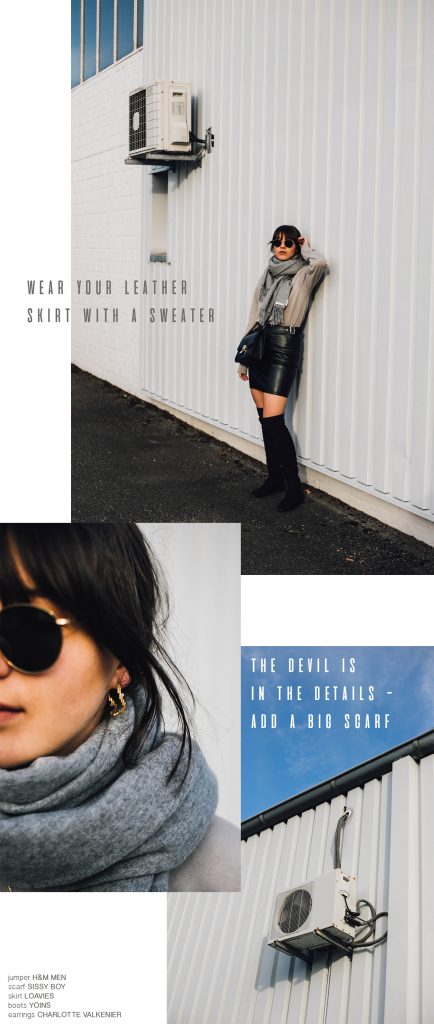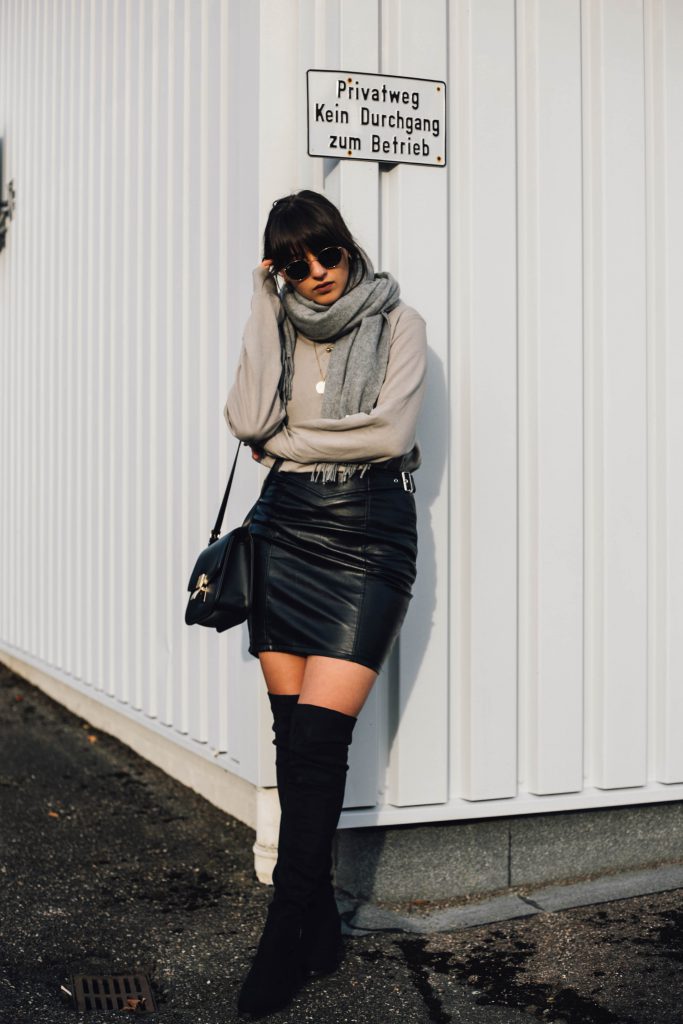 jumper – H&M Men  |  scarf – Sissy Boy  |  skirt – c/o Loavies  |  boots – c/o Yoins
bag – c/o Minusey  |  sunglasses – Ray Ban  |  earrings – c/o Charlotte Valkenier
A little confession on a sunday morning never hurt nobody: I like leather skirts and over the knee boots, ideally worn together and I don't think one has to look like a woman of the night wearing both of them at the same time. Especially not if you pair it with a sweater, the best ones are found in the mens' section, as well as a big chunky scarf and your favorite sunglasses!
Yet whenever I do go out with a leather skirt I feel like people look at me in a different way – most of the time it's not a positive thing. I have done such good progress with not giving a damn about how people look at me or what they think about the cloths I am wearing (trust me I am going to a business school – a place people assume good style consists of a Ralph Lauren polo shirt and Timberland boat shoes – I am used to not fitting in) and yet with this precise garmet it bothers me. It really does. I wouldn't even be able to put into words what bothers me so much about it. Why can't we let people wear whatever they want? I am not complaining about Ralph Lauren polos & boat shoes. Mabye a little, but you get the point I am trying to make, right?
Can we just all stop looking funny at people just because they are embracing their own style? Instead, why don't we actually encourage individualism? Why don't we go up to people more often and tell them how much we appreciate that they are different?

P.S.: Can you see how ridicilously long my bangs have gotten? I decided to not cut them again because I don't think I would be surviving the Australian summer with them.