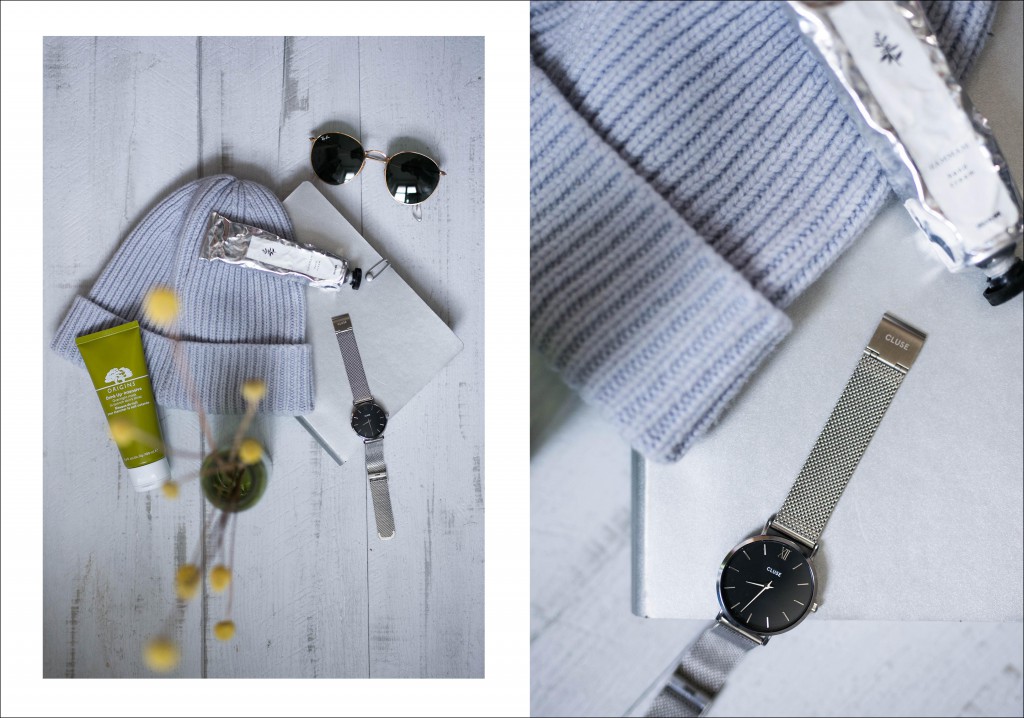 Hat – COS  |  Handcreme – Sissyboy  |  Mask – The Origins  |  Watch – c/0 Cluse
Sunglasses – Ray Ban  |  Notebook – Hema  |  flowers – Esra's
As some of you might already know from my last blog post; I have been to Munich this week and came back last night. I was there to celebrate Esra's blog birthday but don't worry a Munich travel diary is already in the making! If you follow me on snapchat (sophievedaniels) you have probably already seen what I have been up to!
Now I want to show you what my handbag essentials have been for my short trip to Munich – be prepared it was cold! On Thursday I woke up to winter wonderland and I was really happy I brought my new beanie from COS (big plus it was a sale find!), which kept me warm no matter what! As I have told you before my skin gets very irritated when it's cold and the snow was an additional trouble for my skin so I made sure to always have my Origins mask with me. Whenever my skin got really dry I just applied a little of the mask and it kept my skin hydrated. An additional skin care product that I always take on travels is my Sissyboy handcreme and yes it's mainly because of its incredible nice scent!
Taking track of time is always important on short trips and my Cluse watch happened to be the perfect stylish helper. Oh and obviously I didn't leave the house without my Ray Ban sunnies (and no I did not wear them while it was snowing!). Last but not least I cannot travel without my little silver notebook! Whenever I am stucked in a train, plane or car for more than 2 hours I get lots of ideas for potential blog posts or things I still need to do and while you can write that done on any kind of paper I prefer to write things down in this cute notebook.
What can't be missed in your bag for a short weekend trip? Any travel essentials I should know of?