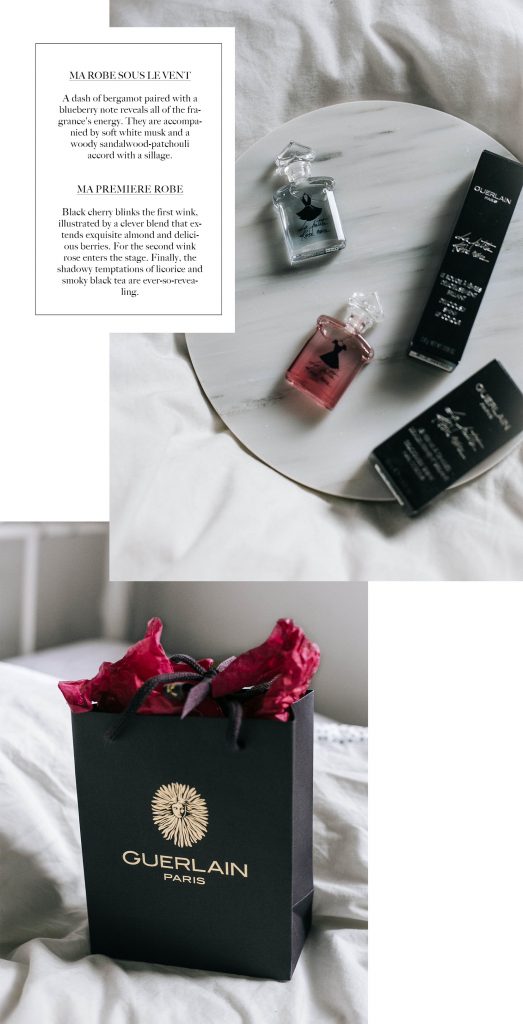 Miniature Fragrances La Petite Robe Noire – Guerlain
The key characteristics of both fragrances would suggest that they are rather feminine and sweet fragrances and while I do agree with that they both also have a more maskuline heavy side which is musk for the Ma Robe Sous Le Vent and black tea for the Ma Premiere Robe. Every person is different and that is why every fragrance develops a unique twist on each person. My skin always seems to bring out the more heavy side in perfumes, which I generally prefer as well. It was no different with the two Guerlain fragrances and while they aren't fragrances that I would usually pick first when trying something new they definitely passed my criterias!
La Petite Noire Lipstick colour black perfecto – Guerlain
You know those people that stick to their opinion no matter what? While I wouldn't usually count me as one of those people when it comes to lipsticks I pledge guilty. I don't like shiny lipsticks – at all. Once again Guerlain managed to prove me otherwise. The texture of the La Petite Robe Noire is very light and leaves your lips soft, moisturized and shiny. The shininess is very subtle and doesn't bother me with this particular lipstick. I tested the lipstick in the shade black perfecto and when I first opened it I was a little worried about how dark the shade looked but there is nothing to worry about the colour is much lighter on the lips. It really just darkens your own lip colour a couple of shades but adds a lot of volume to them in the process.
La Petite Robe Noire Nailpolish colour red bow tie – Guerlain
Let's just all take a second to appreciate the beautiful packaging of the nail polish. I haven't actually tried the nail polish on just yet because the thunderstorm colored nails just fit the current weather oh so well. I was a little surprised though when I opened the lid just to realize that the nail polish didn't smell like nail polish at all. It is scented after the La Petite Robe Noire fragrances! I will definitely give the red bow tie color a try over the festive days in December.