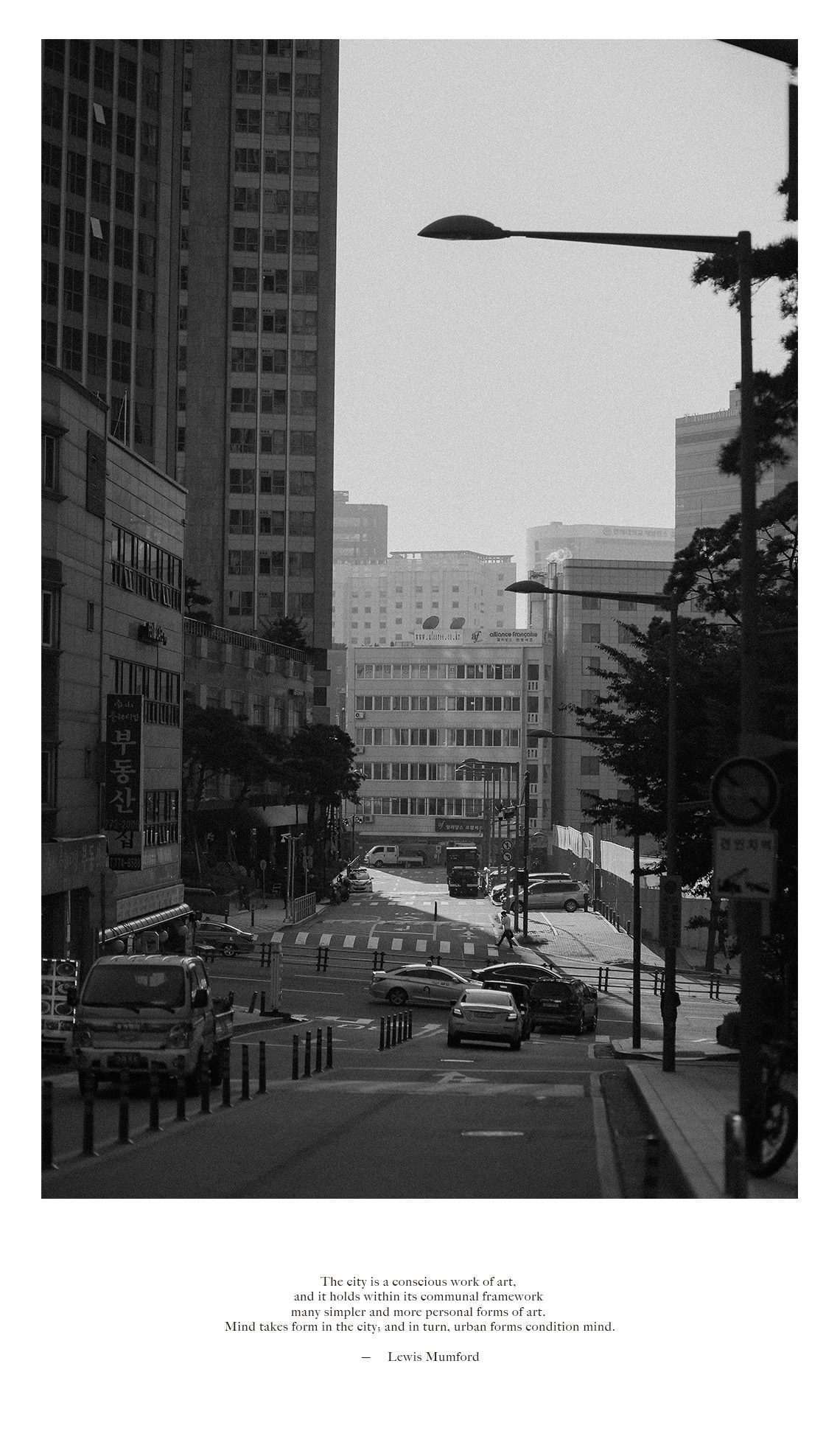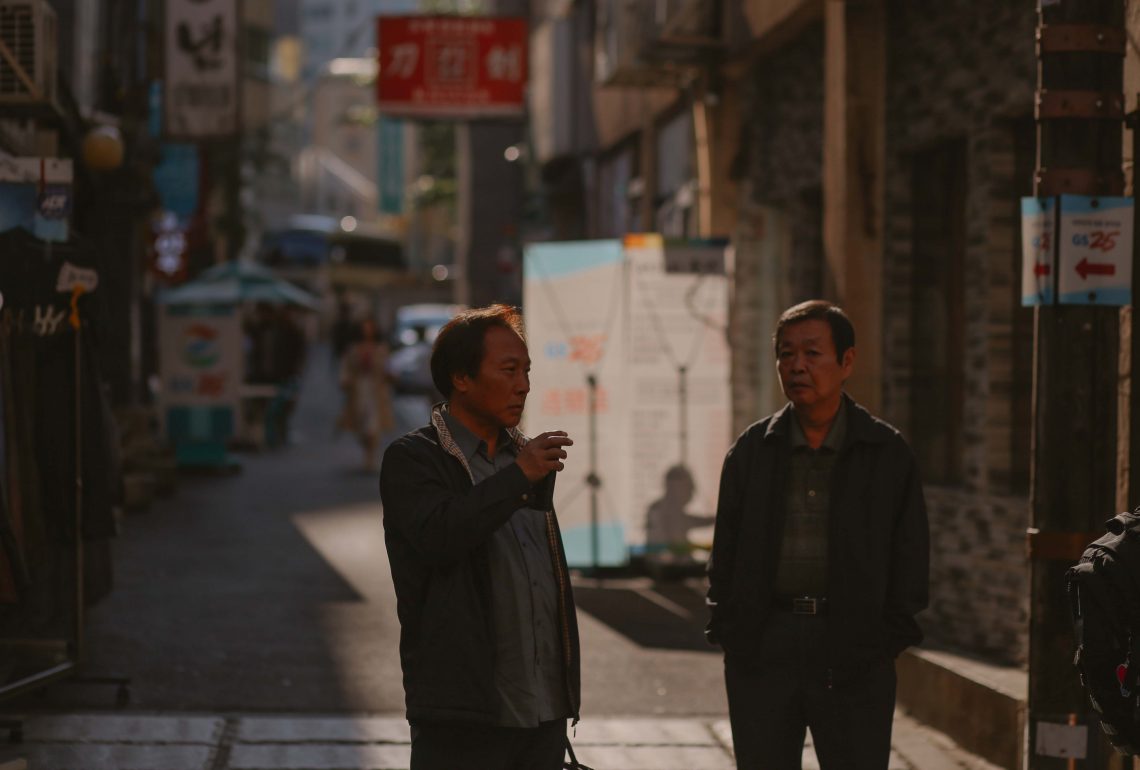 A week in an unknown city gives you enough time to explore. As for me, it will also give me enough time to find my favorite coffee shop close to the apartment I am staying at and probably already have the local coffee shop owner remember my usual order. Given I  am a caffeine addict that needs her daily fix. Of course, a week is not enough to find all those hidden places that one finds when living in a city. However, Seoul quickly felt like a home to us. The area of Hongdae, in which our Airbnb was located, welcomed us with a warm familiarity after each day of exploring.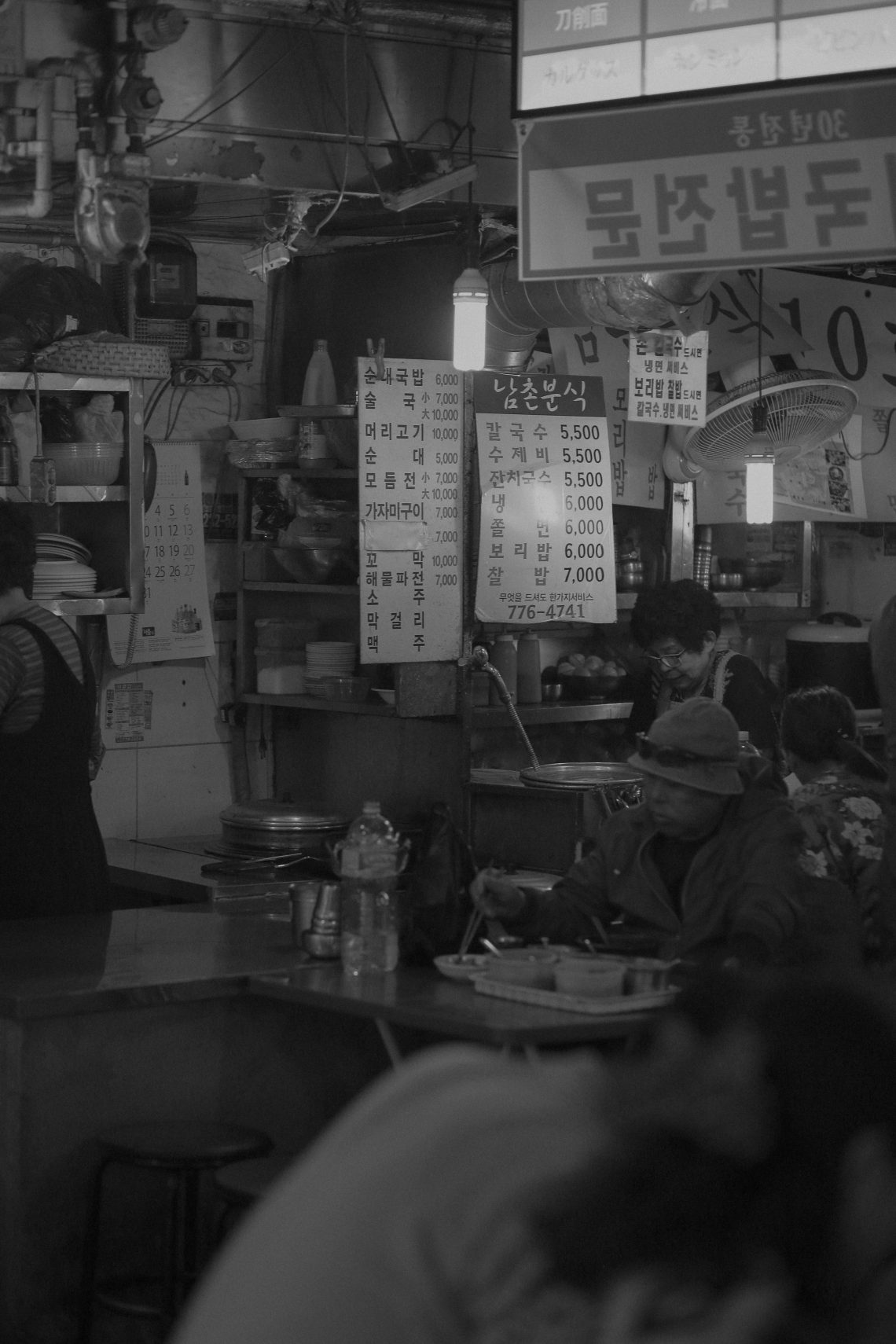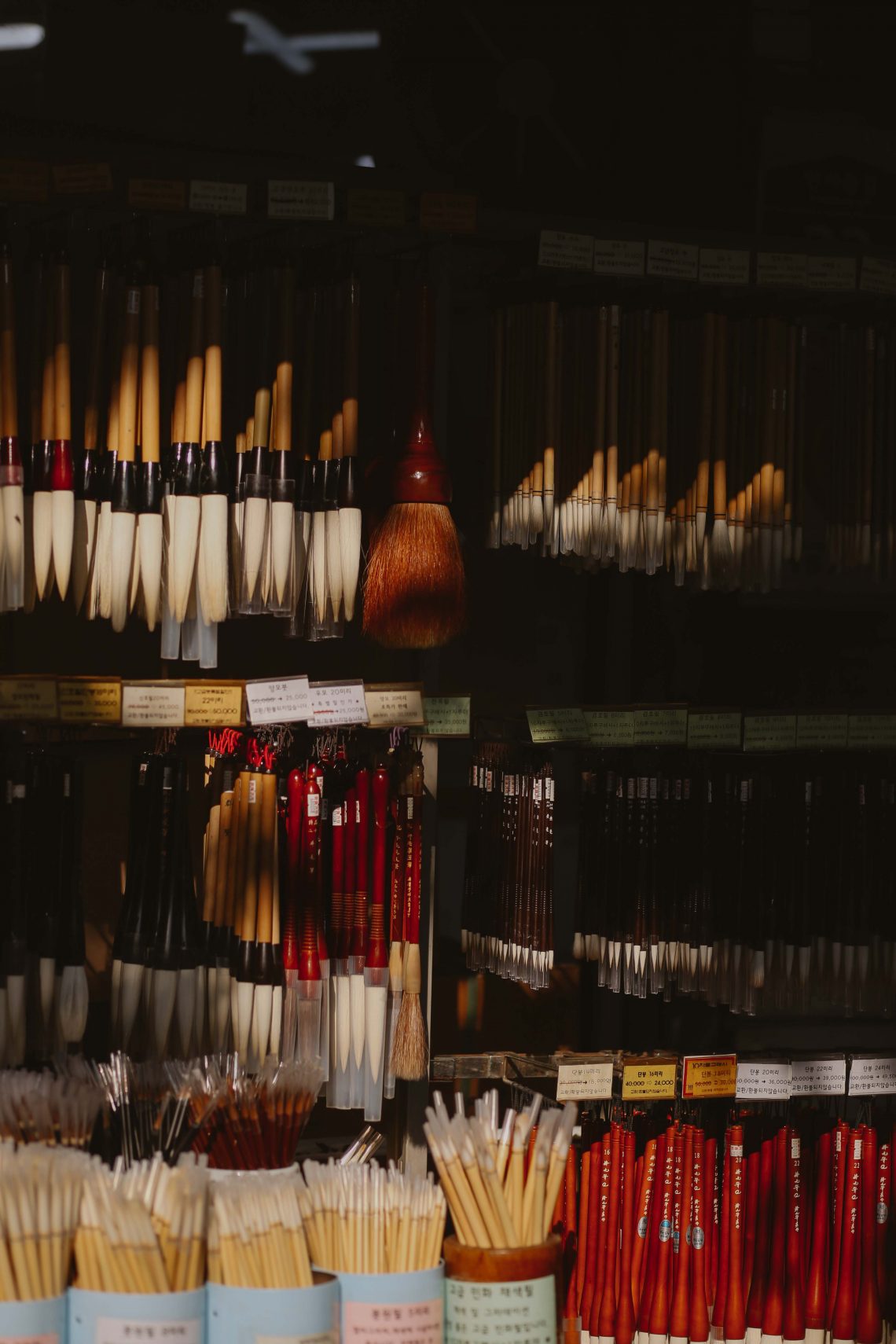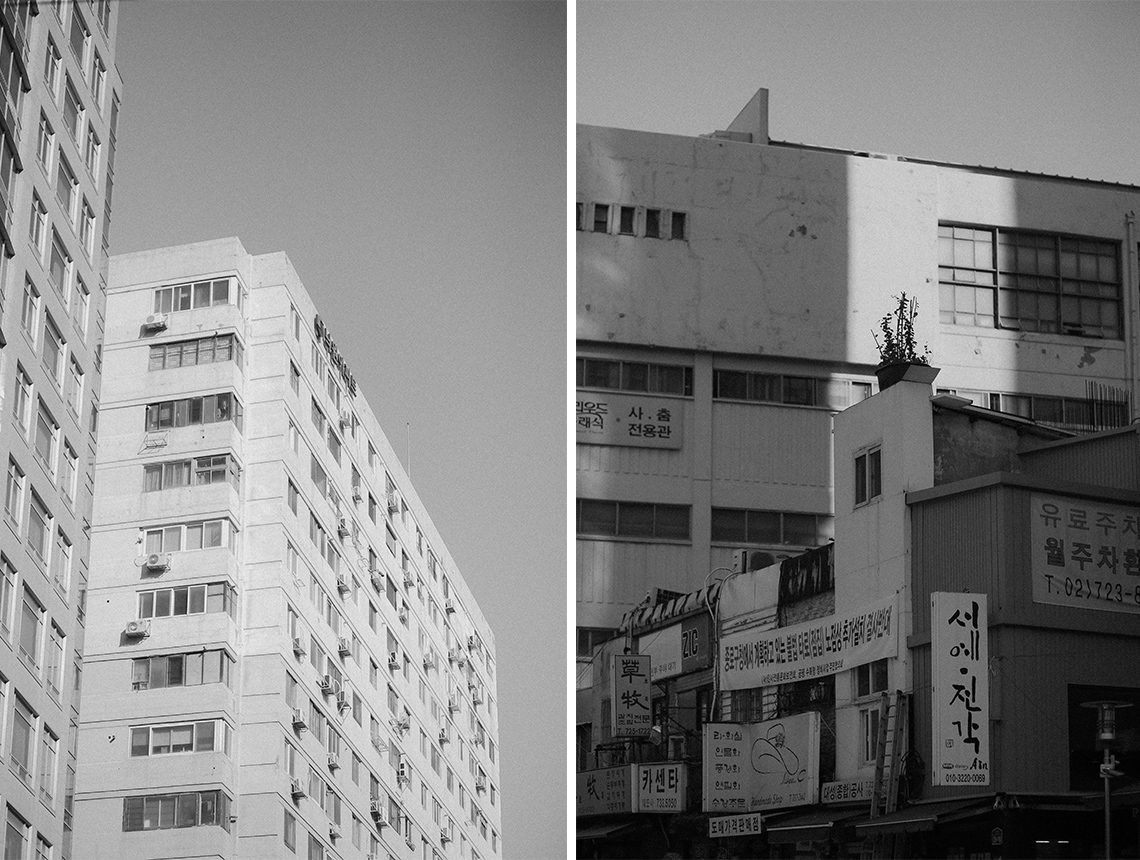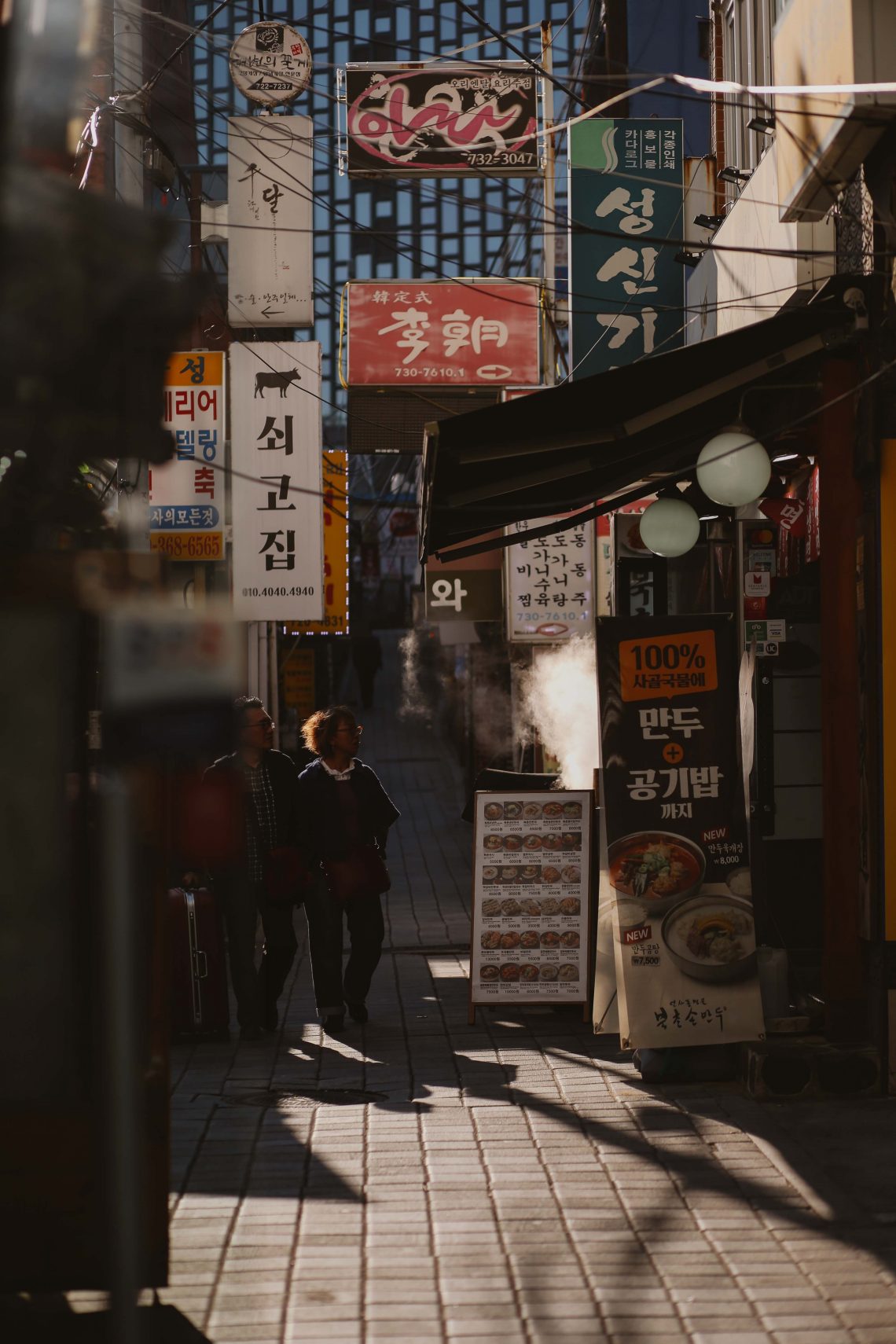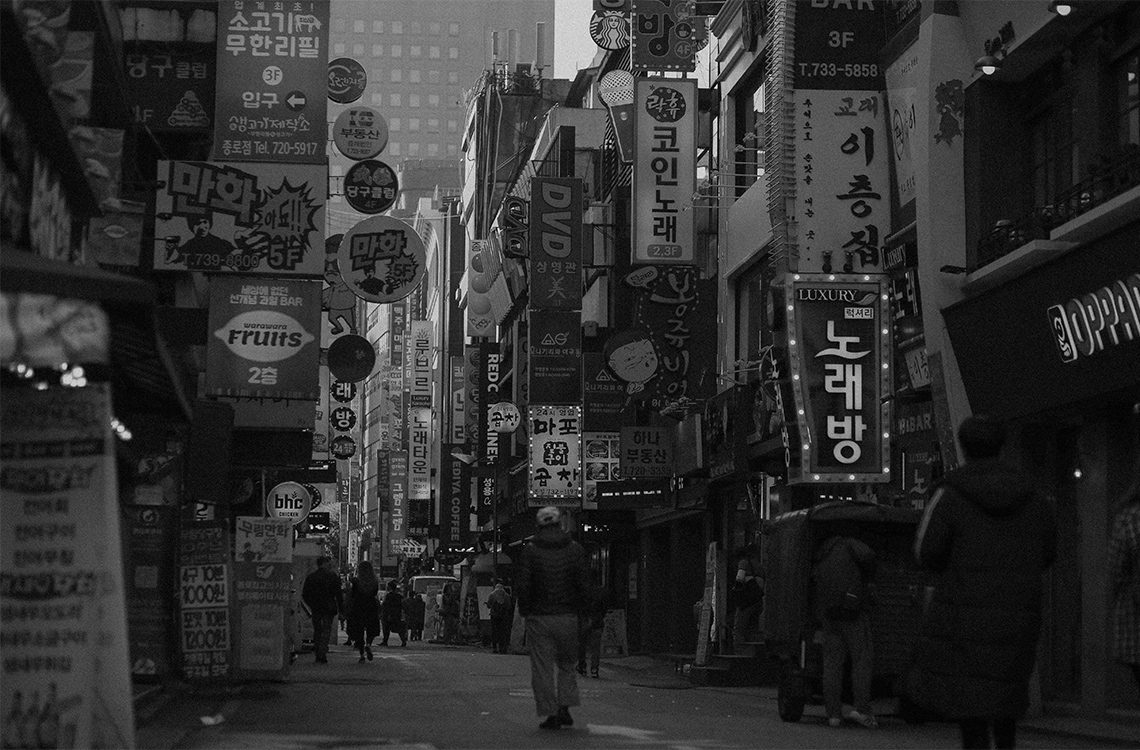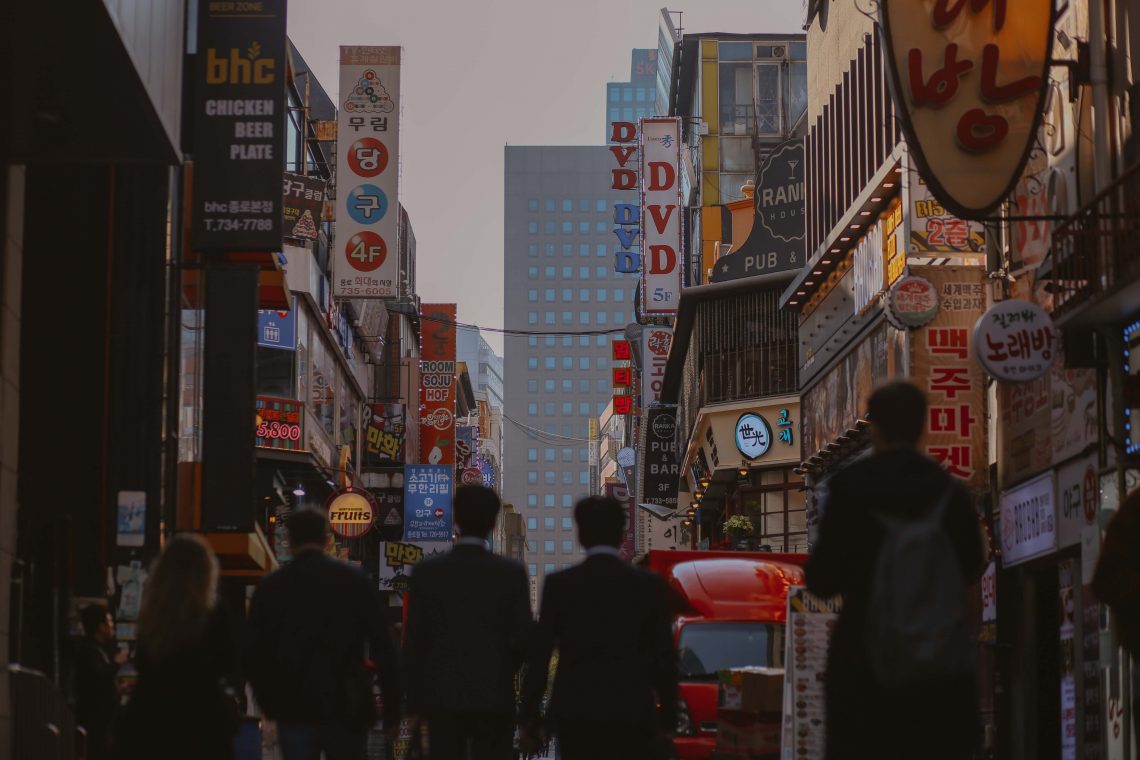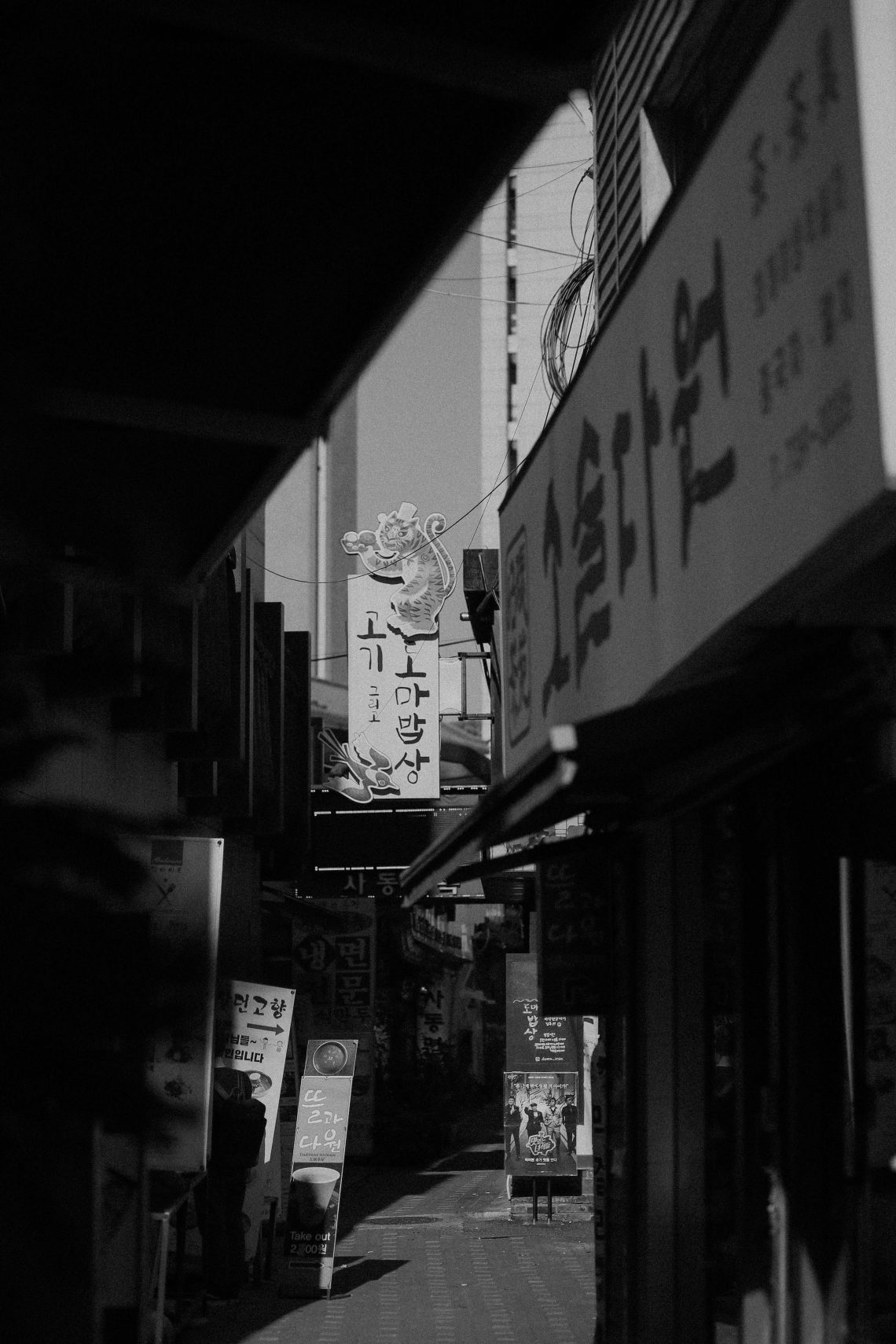 Myeongdong
Somehow, we managed to magically pass the area of Myeongdong, which is known for its hundreds and hundreds of Korean beauty stores (mostly chains known in Korea), each and every day. The first time we did a huge haul including many products requested by friends back home plus the additional products we wanted to try. Plus some old favorites of mine. Did someone say overweight luggage? Make sure to watch this space as I will be writing a full review of the products purchased once I tried them all.
The area is quite touristic but has its perks for anyone wanting to get their shopping fix satisfied. Additionally, the street food offerings are quite good. Last but now least, I feel like you gotta have the experience at least once if you are in Seoul – it's central, it's buzzling, there is noise everywhere.
Hongdae
As previously mentioned our Airbnb was located in Hongdae, which is also known as the hipster district / the trendsetter district / the student district. Call it as you want – it is an amazing place to stay at. Let's not mention that it took us 3 full days to figure that out as we had our eyes planted elsewhere on the Seoul map for those days. All good things take time or so they say, right? The shopping is nice there, too. Lots of small boutiques and vintage stores. Our must visits are Arland (many Korean brands and styles), Artshop (where you can find all the souvenirs one needs), ADER ERROR flagship store (MUCH cheaper in Korea and the store is a design perfection) and Style Nanda. The food is even better and you will find plenty of places for your evening beer or cocktail. If you feel like tasting some European cuisine you will most likely find it there, too even though we stuck to Korean.
Gangnam
We only spend an afternoon in Gangnam but surely that is a district we want to come back to. Most likely, we will board the plane to Seoul with an empty suitcase and come back to Gangnam for the best shopping experience. Make sure to go and see the Dr. Jart flagship store there as it's a complete experience world. The architecture in Gangnam is great and the boutique designs are so personal and unique. There is definitely a high emphasis on store designs in the area, which for me makes it worth the visit even if you don't have a million to spend.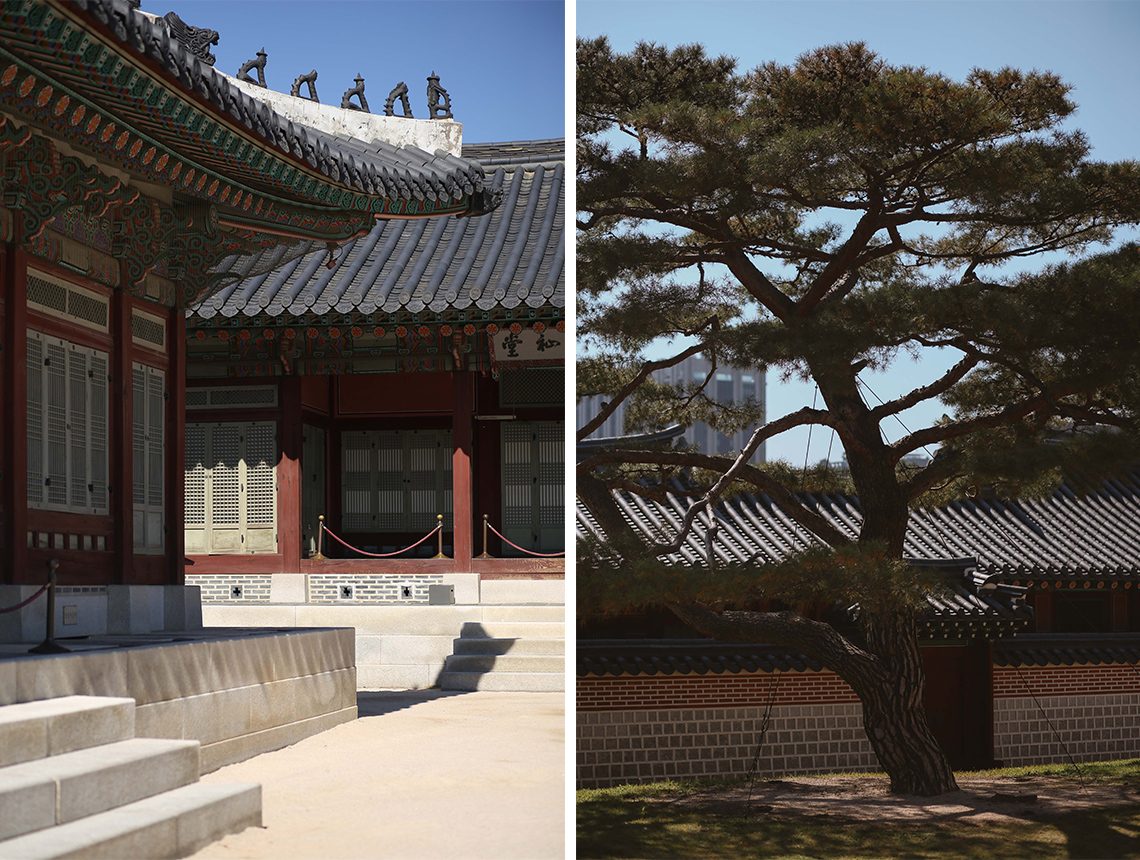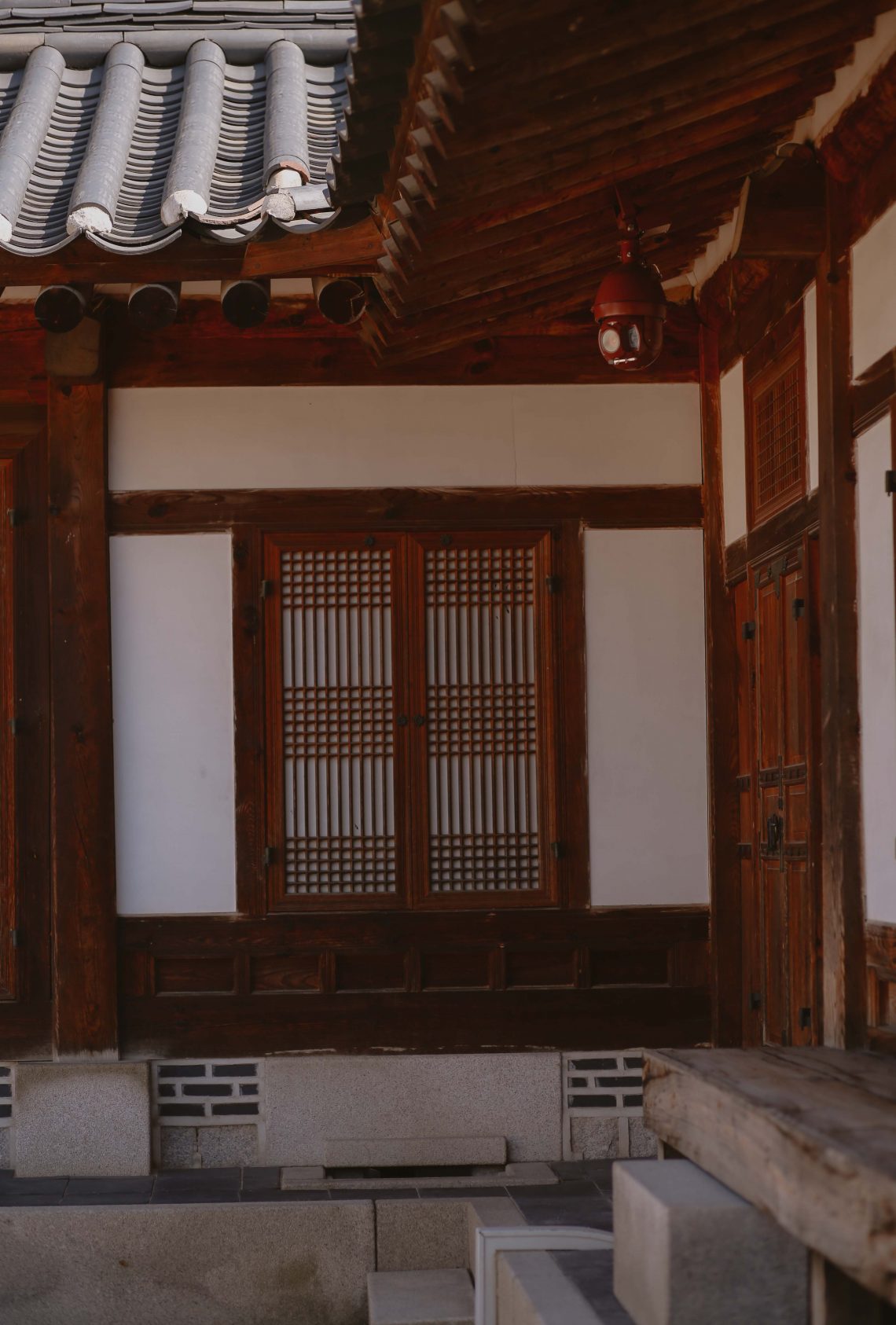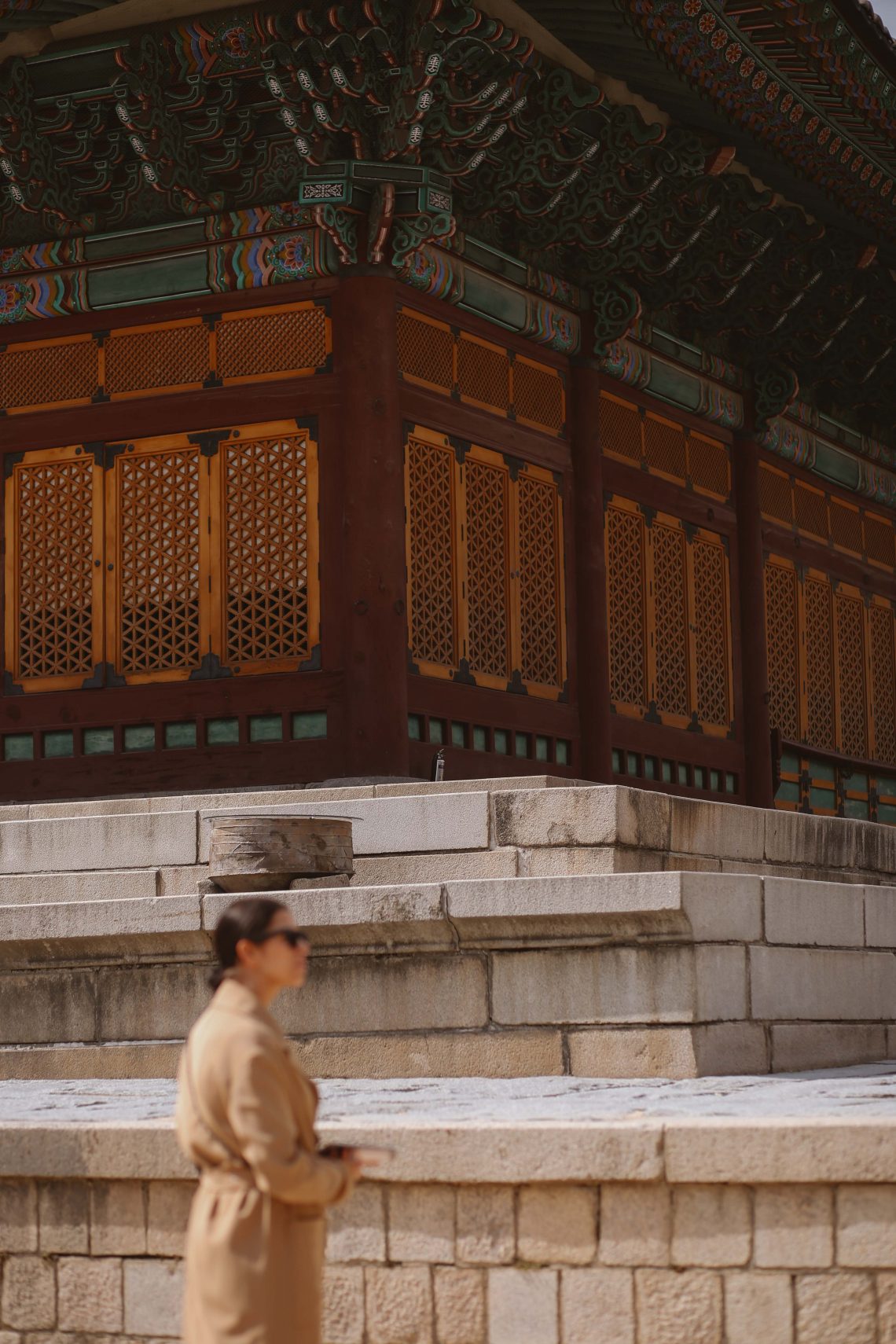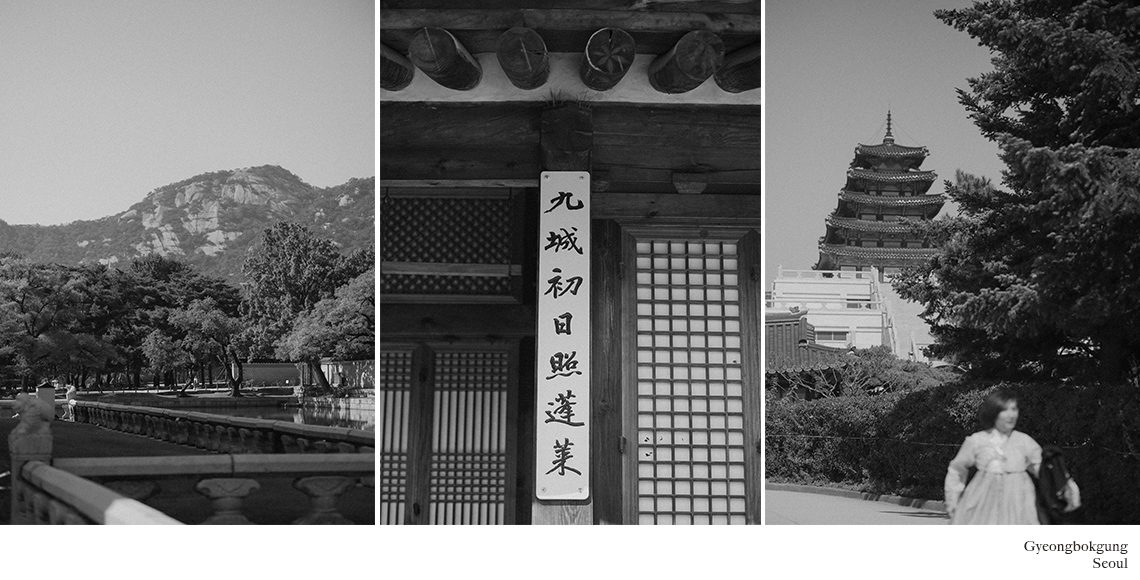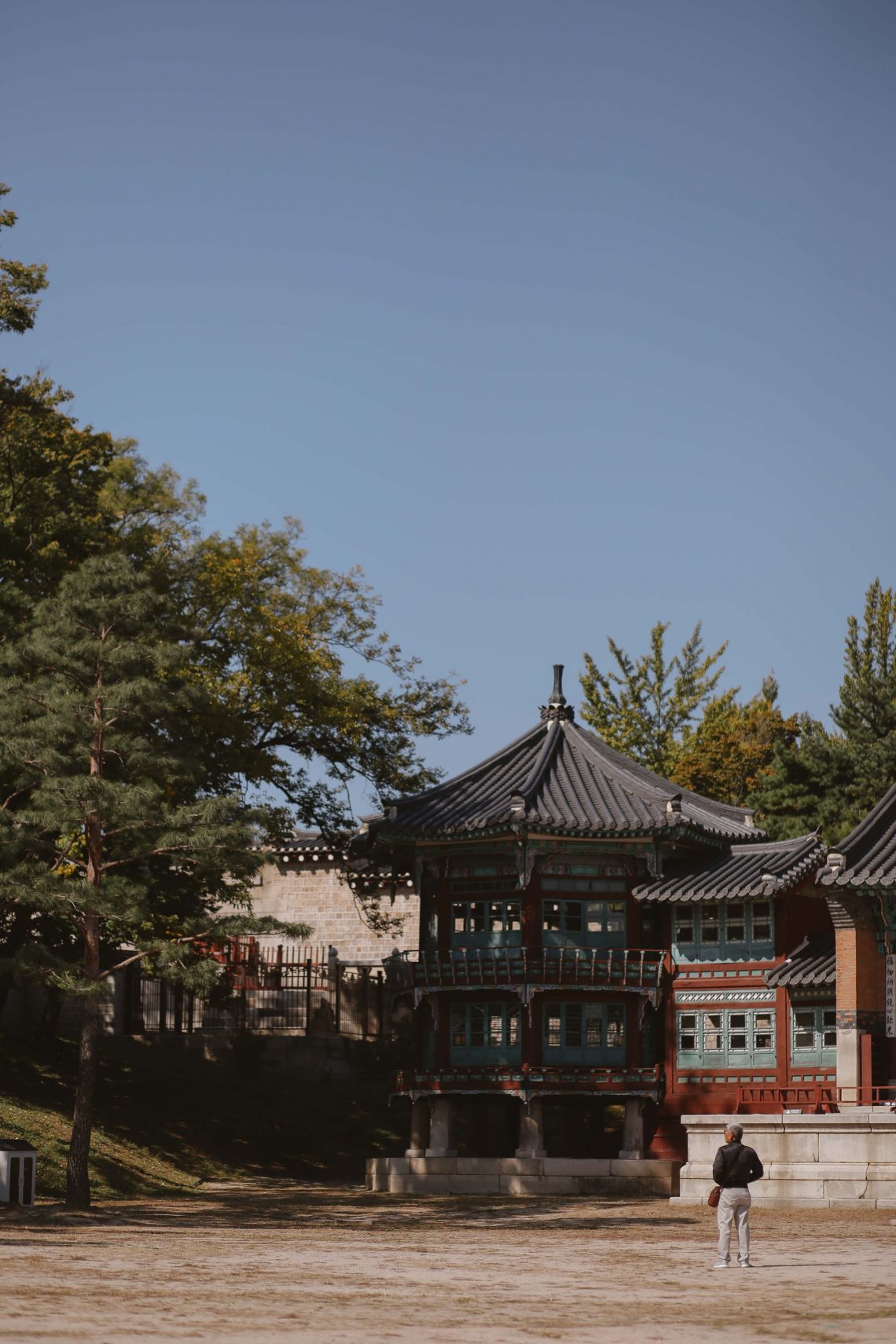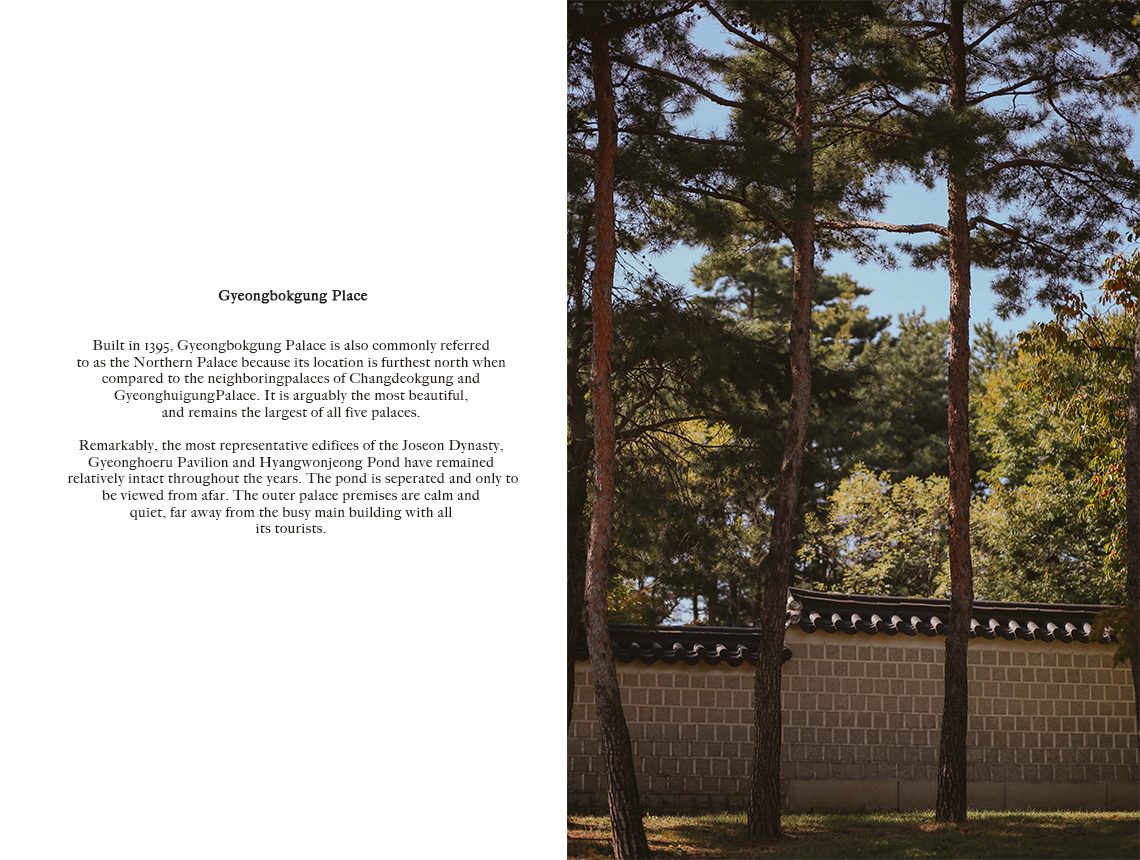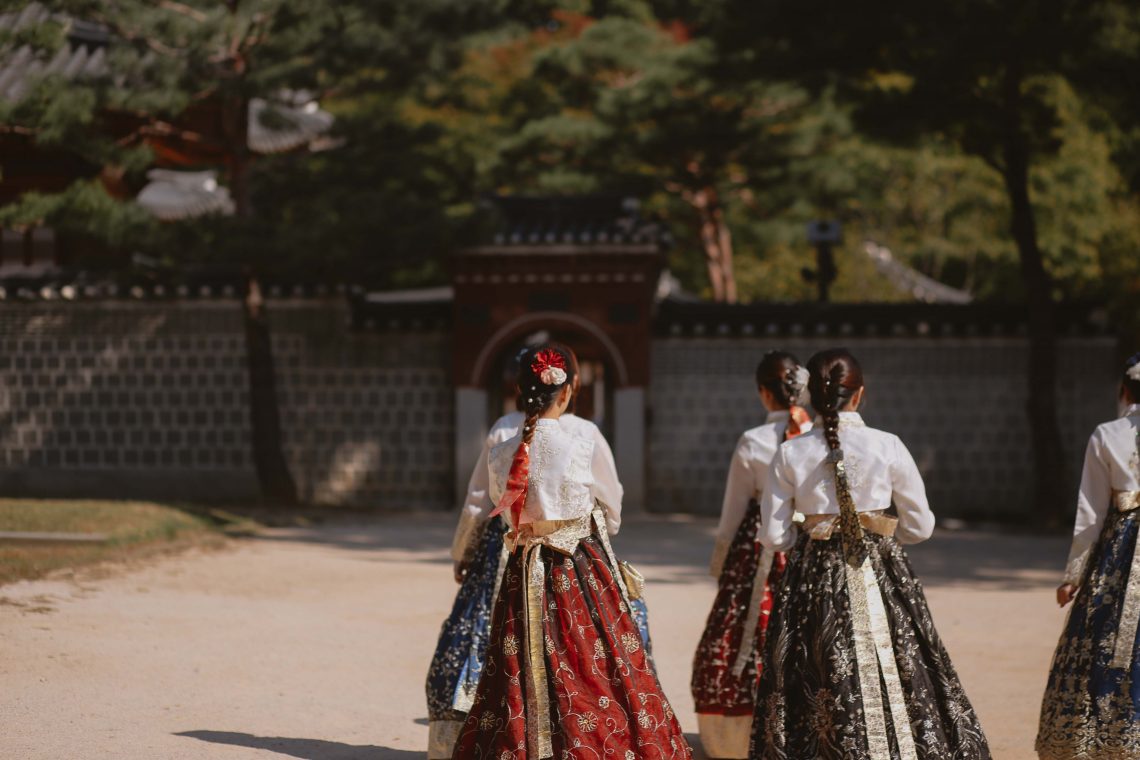 Gyeongbokgung Palace
Contrasting, the wild shopping I mentioned before, are the many palaces in Seoul. We decided to go to Gyeongbokgung palace and spend a lot of time there instead of trying to squeeze all palaces in our schedule and end up not really experiencing any of them. The park in which the palace is located is huge and after leaving the big main palace building behind, the air got clearer and the sounds of tourists slowly died away. In fact, you could hardly see any tourist, apart from the ones that had rented a traditional gown for their visits. Make sure to definitely walk all the way up to the Jibokjae building, which is a two-storey private libary, which formally was used by King Gojong. Close by is also the Donggung compound, which used to host the princes and princesses. It's definitely worth the stroll. The park also inhibits the National Folk Museum Korea, which we ended up only quickly viewing from the outside as the building is such an impressive monument to look at.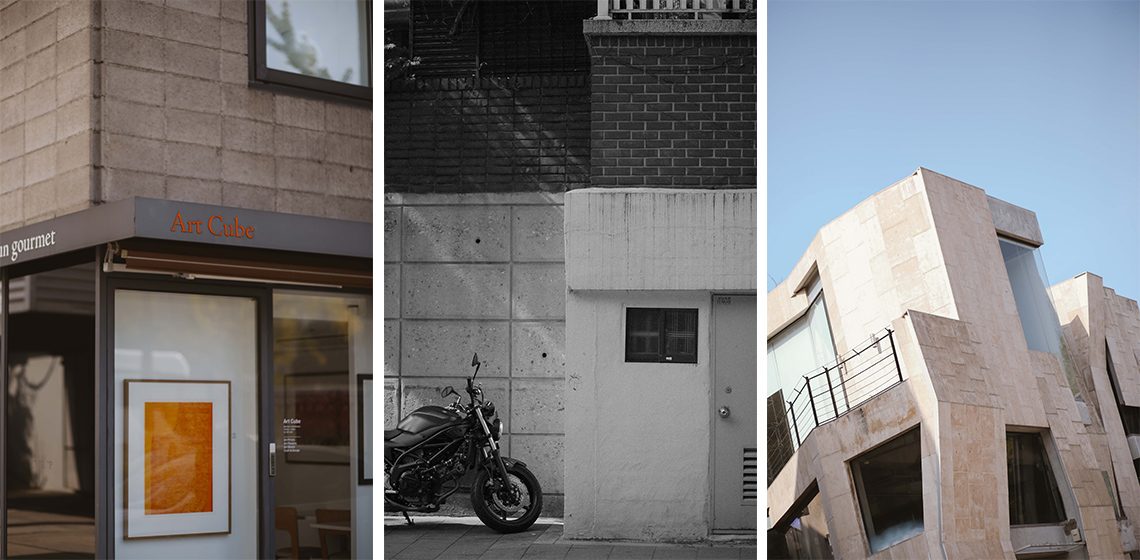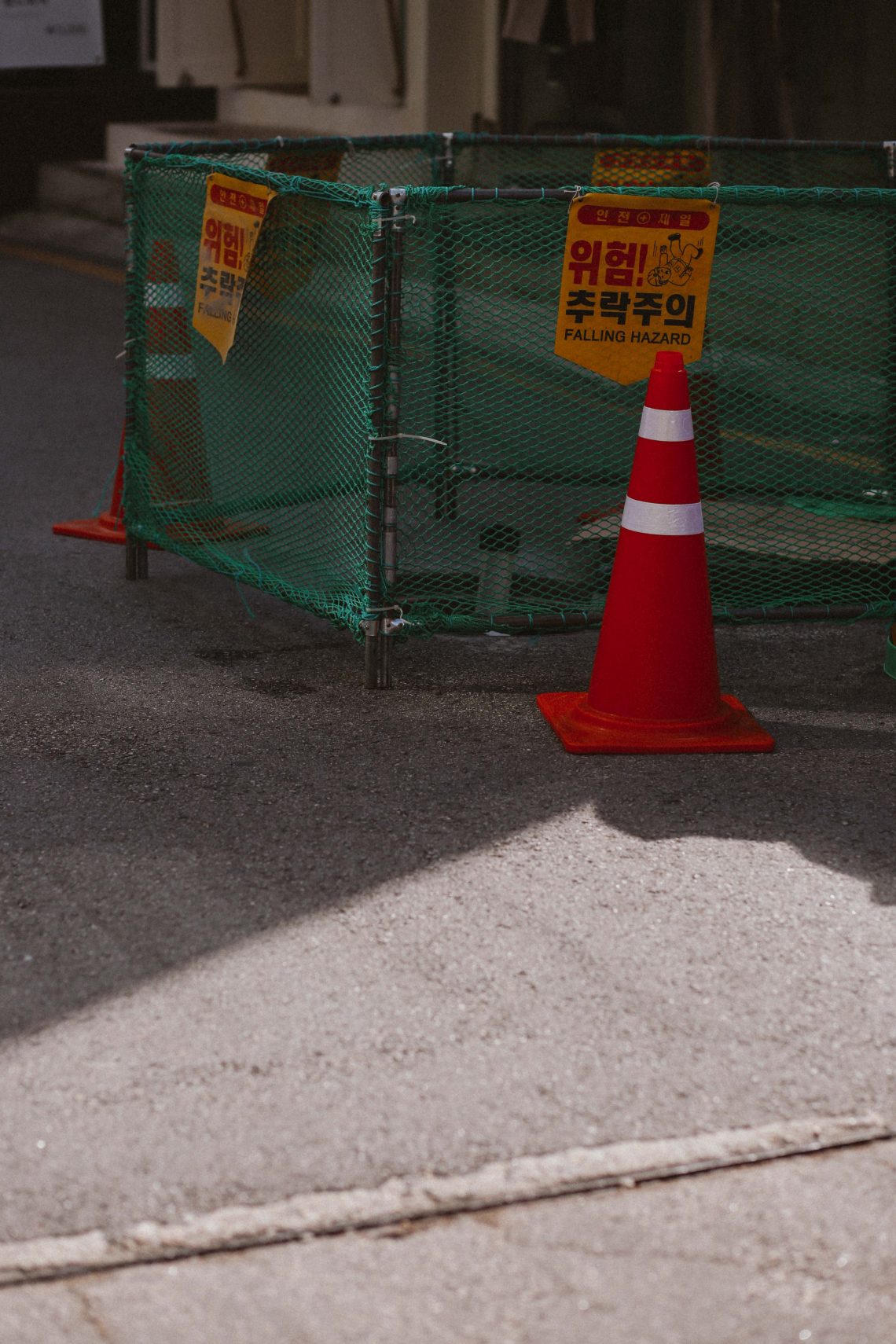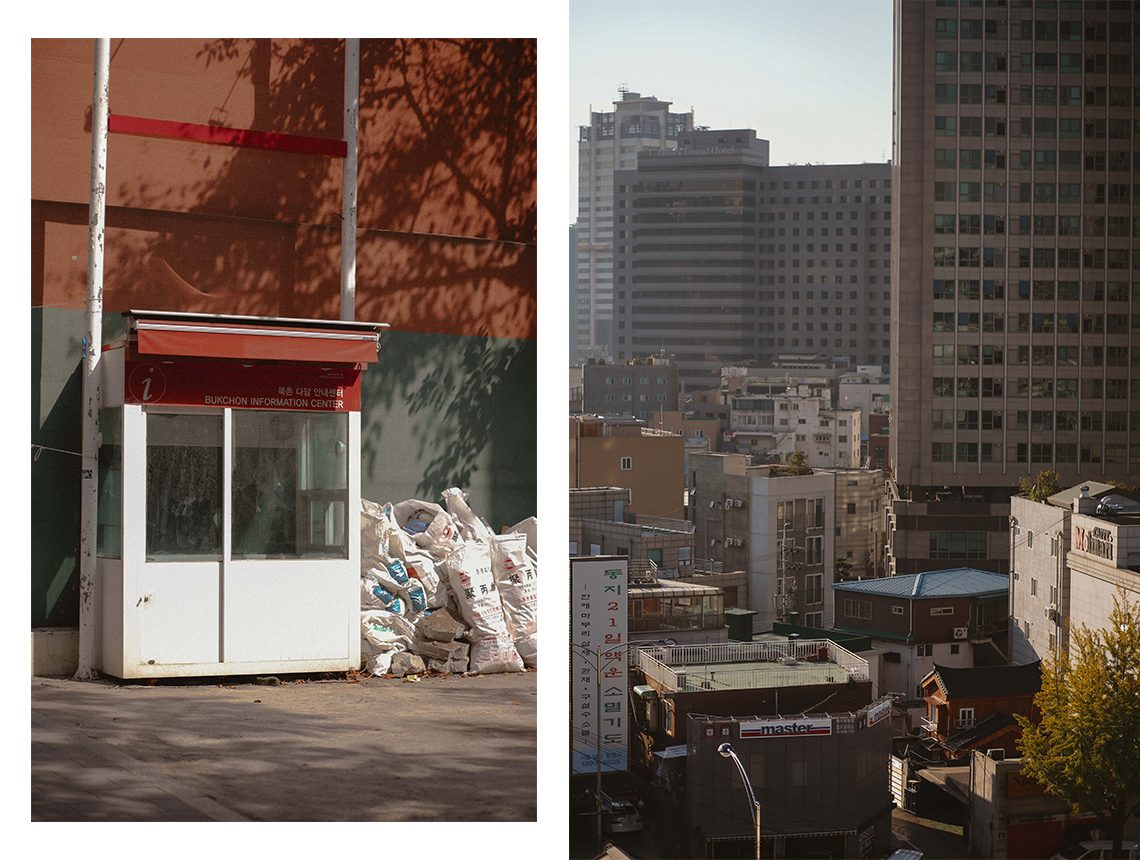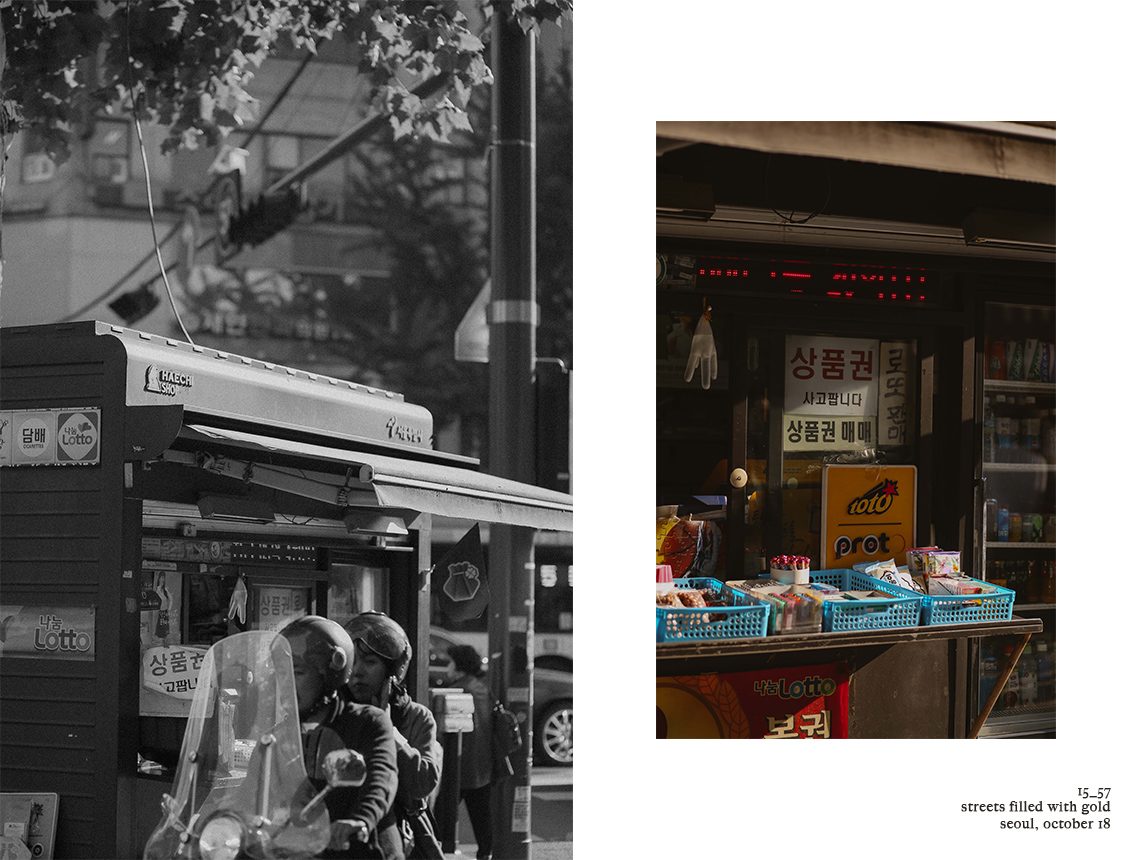 Art District
Inbetween the Sejongno park and the Waryong-Dong park there lies a place that I would categorize as the art district of Seoul. May I be completely wrong but one art gallery is placed after another and the shops and architecture quickly changed, too. One most likely passes the area when walking to the Hanok Village (read more about that further down). The architecture was a mix of modern, traditional and of course run-down kind of backyards and alleys. The National Museum of Contemporary Art is also located in the area and is a definite MUST VISIT when in Seoul. The architecture is incredible (especially in the evening sun) and the exhibitions are great. I often struggle with contemporary art museums but this is such an inspiring space.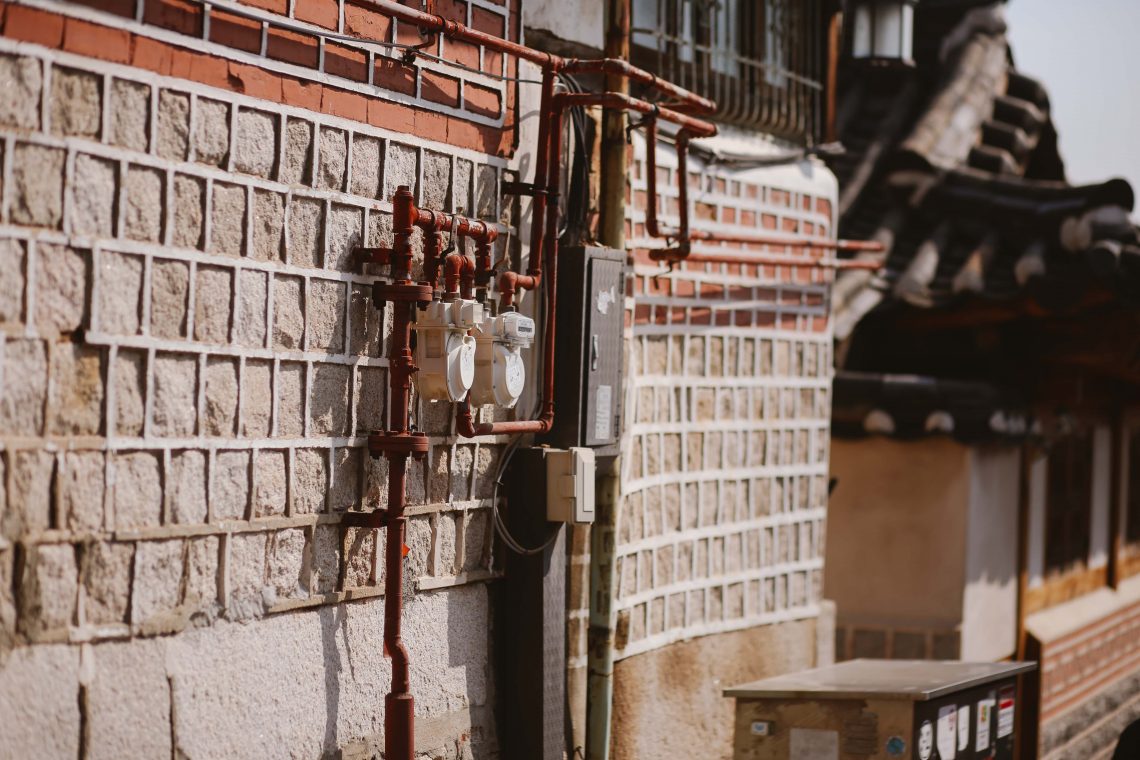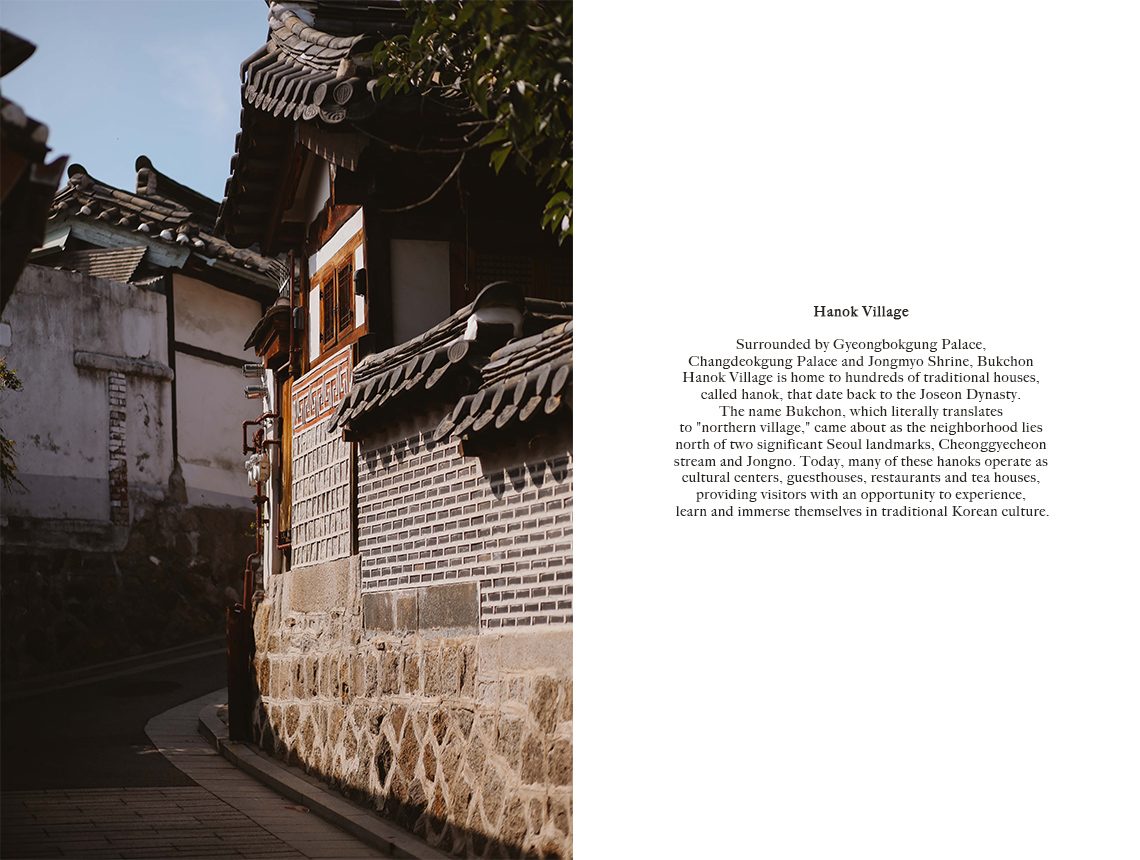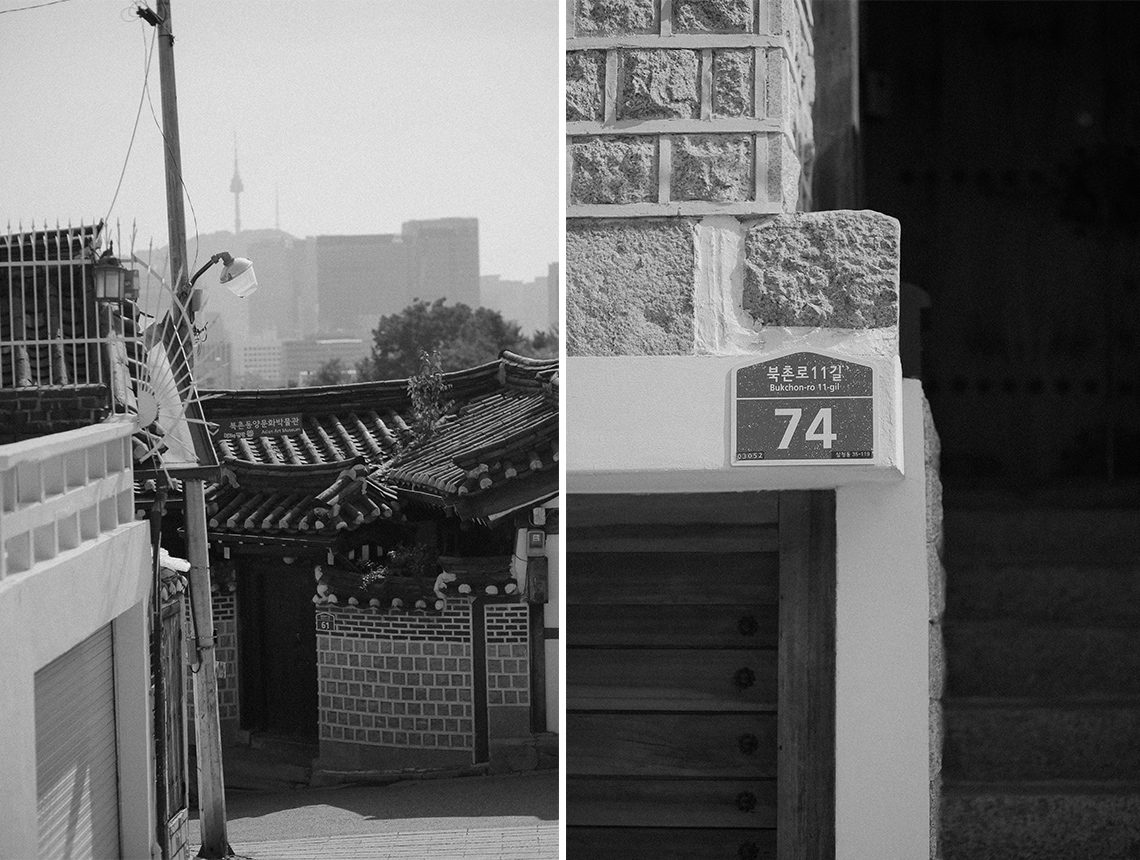 Hanok Village
The Hanok Village is one of the last traditional villages within the city. The village is located up on a hill and the name is drawn from the hanok, the name of the houses it consists of. It's a relatively quick walk through as it's just a couple of streets. The small alleys inhibit many traditional guesthouses as well as little art & craft shops. I would recommend coming here early morning so that the small streets aren't filled with tourists just yet.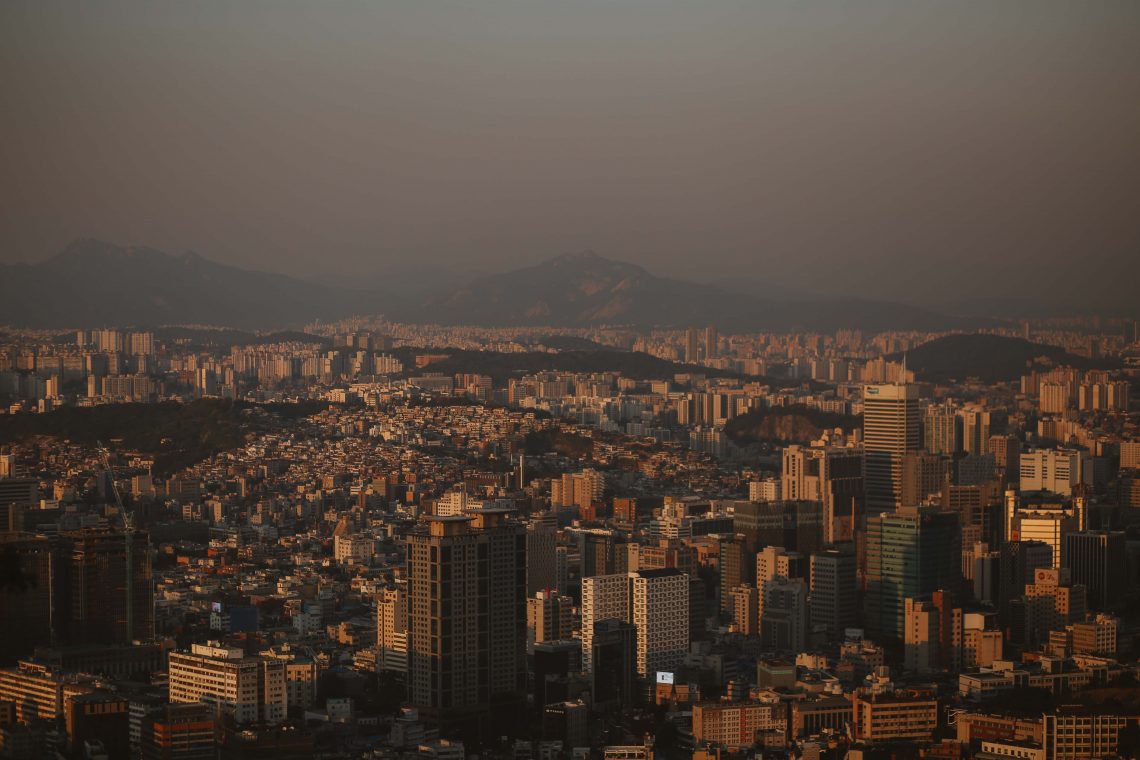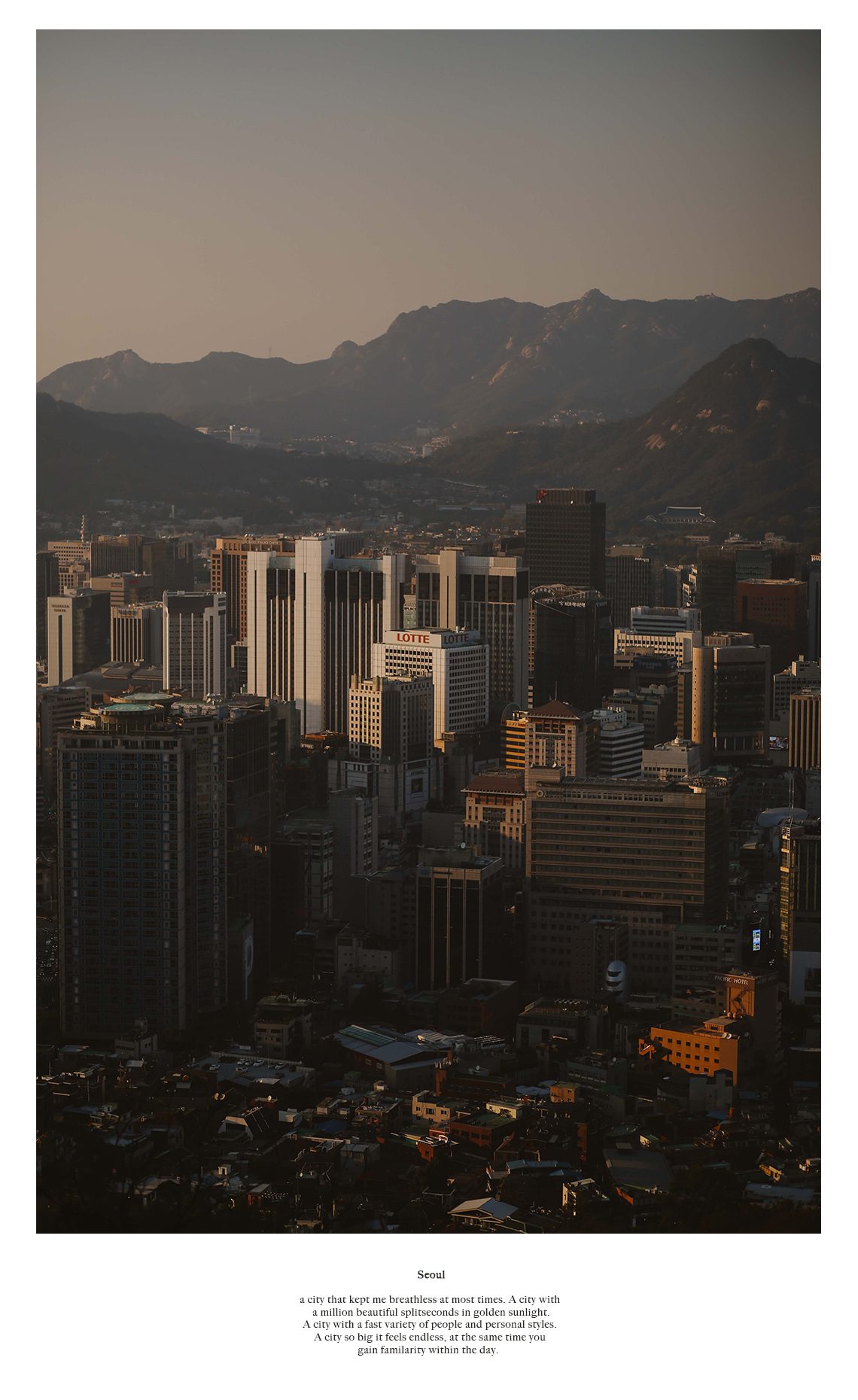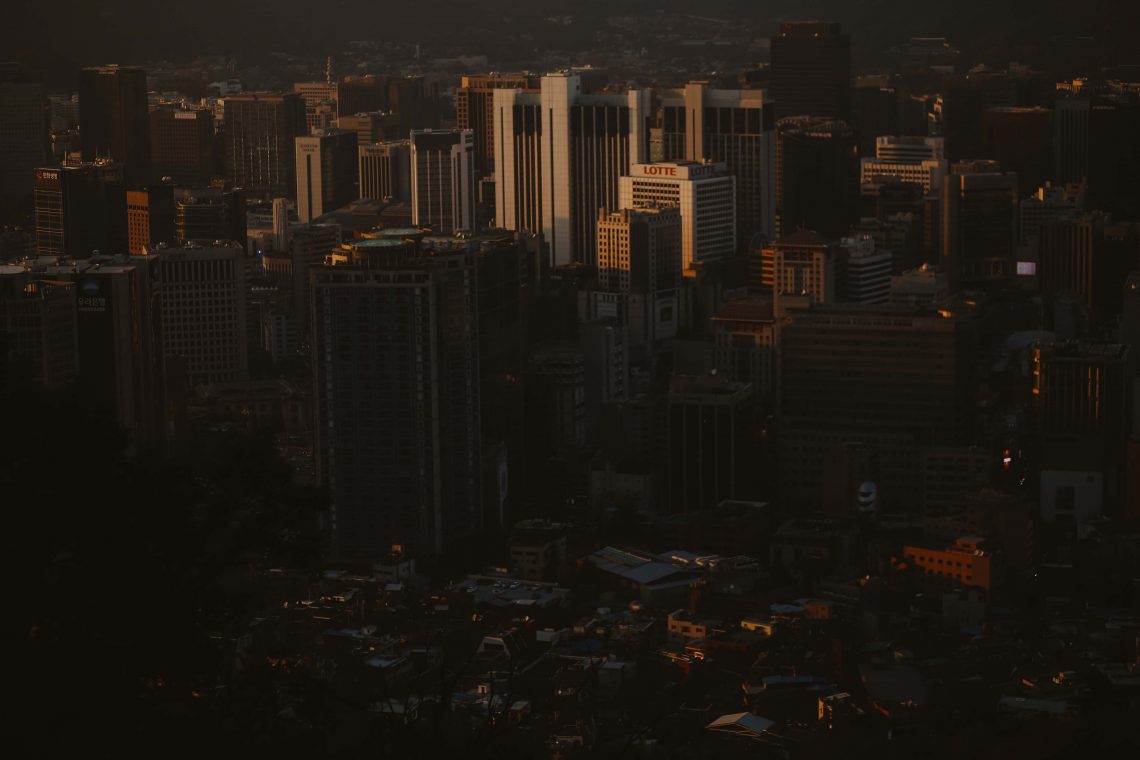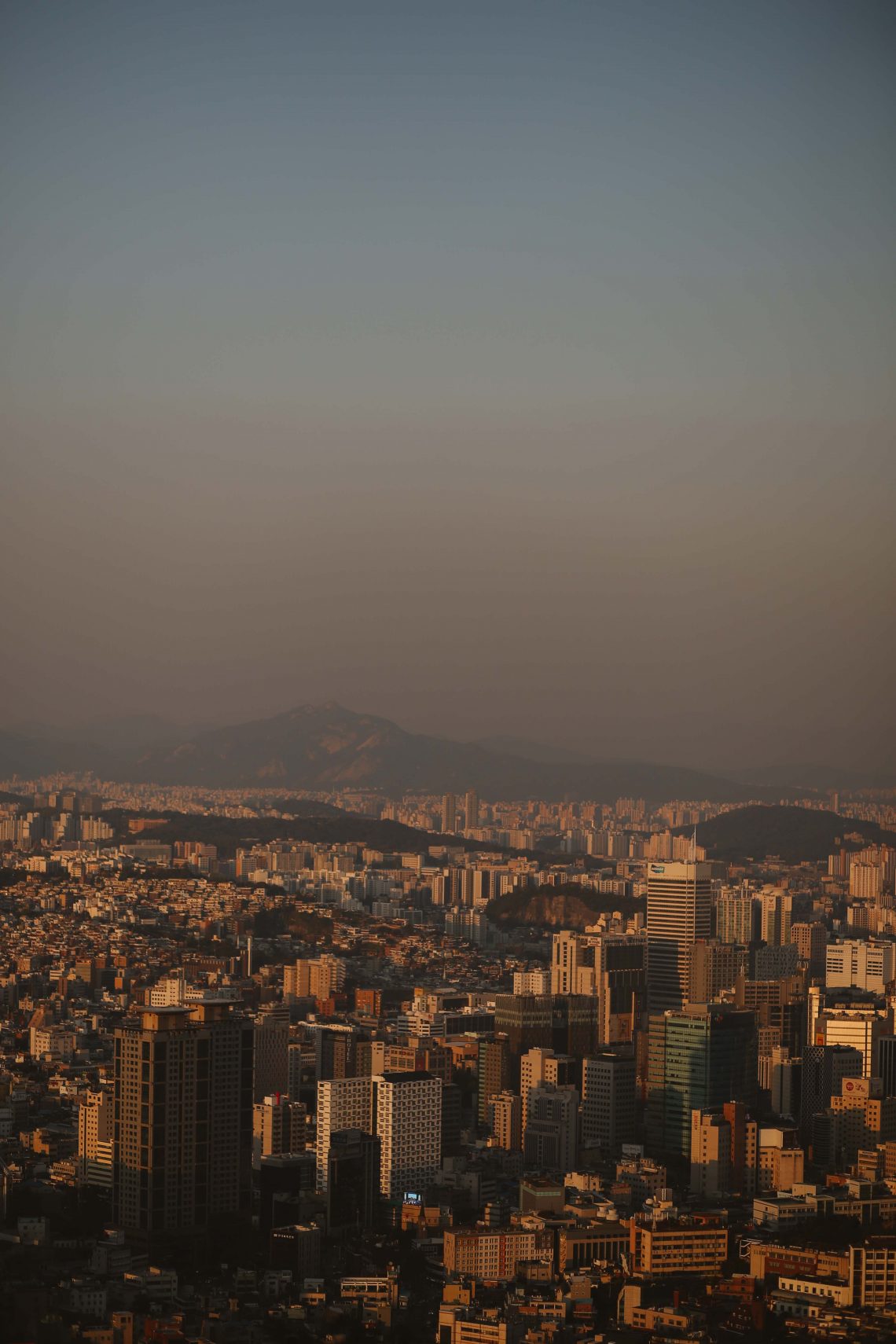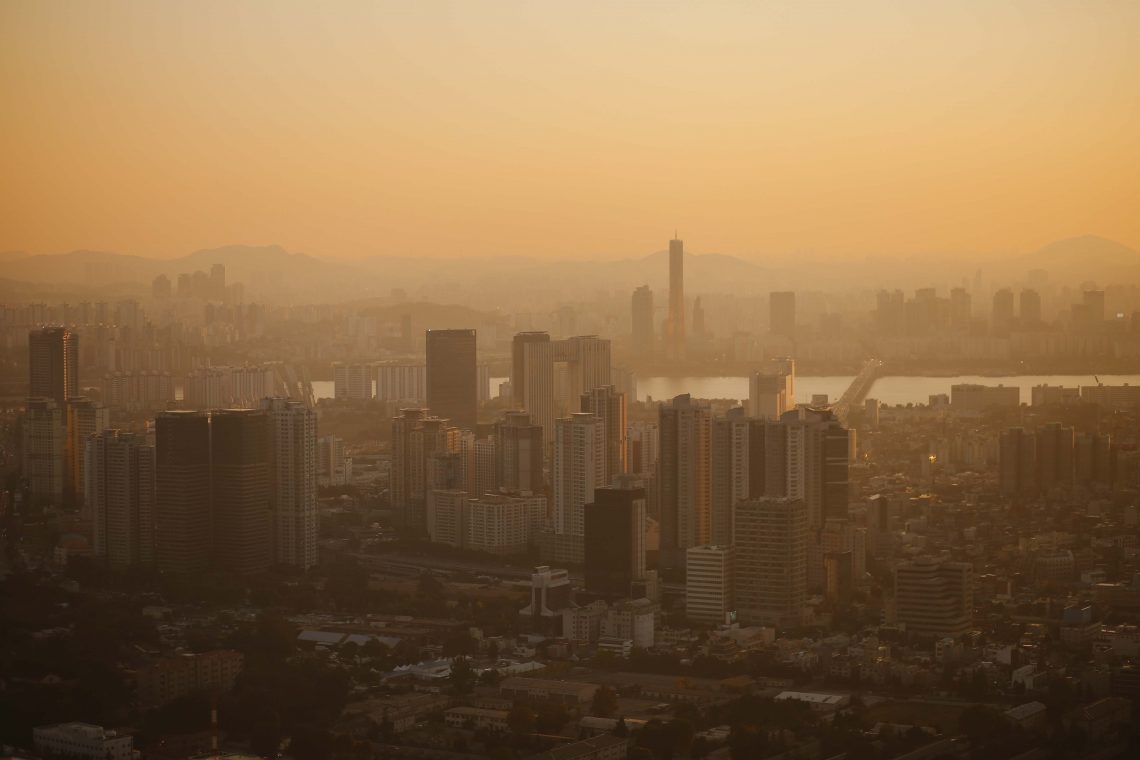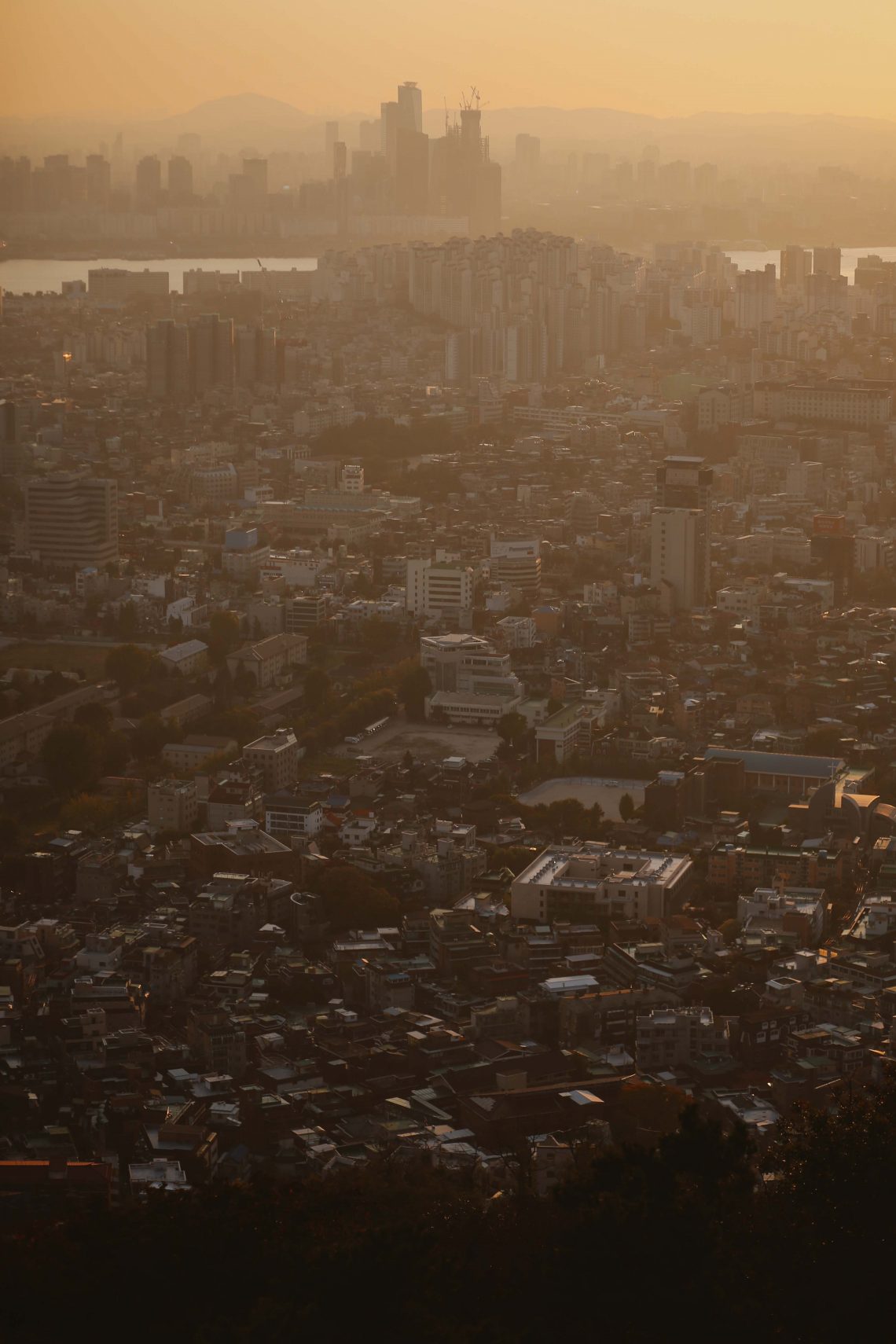 N Seoul Tower
Obviously, no city trip is complete without a peak sunset view. In Seoul, I can recommend going to N Seoul Tower, which is located within Namsan Park. One could easily hike up the way to the tower but yours truly is a lazy butt (and really didn't want to miss the most perfect golden hour) and chose the gondola instead. Next time I would, however, want to walk up since the park is supposed to be worth the visit, too. Once you are up at the peak you can decide whether you feel like it is necessary to go up on the N Seoul tower or if the observatory platform below is already providing a good enough view for you. Honestly, I usually don't go up any towers as I am completely fine with the view from the viewing platform. Plus up on the tower you will have to work with the reflections on the glass, on the other side, it was a pretty spectacular view from up there. So suit yourself – it's not that expensive after all.